This certainly sound more legitimate than the ridiculous Confucius Prize. Check out their website; it seems to have a lot of backing from prominent figures in the US, like Henry Kissinger.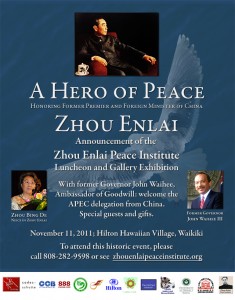 From the download link (PDF) on their site:
Zhou Enlai Peace Award

Once a year, on a date near Zhou's birthday, the Zhou Enlai Peace Award will be presented at a special ceremony held in the Great Hall of the People.

An Award will be given annually to a person within China who practices the principles of simplicity, humility, respect and peacemaking, who meets the personal standard of integrity set by Zhou Enlai. An Award will also be given to a person from the other nations of the world, who will be brought to Beijing to receive recognition for their contributions to peace.

The ceremonies will be broadcast nationwide, and made available in translation to broadcasters in other countries.
Maybe this helps explain why the Confucius Peace Prize has been unceremoniously dumped?
Thanks to the reader who sent me the information.