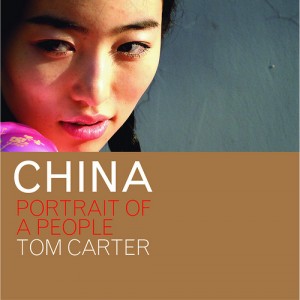 One of the few benefits of blogging is that I get sent a lot of books to review. I only review about half of them, the ones that interest me most. And then when I'm done, the books get stacked in a corner of my study. But Tom Carter's gorgeous book China: Portrait of a People, went straight to my living room coffee table, the only book ever to grace a table cluttered with antiques and China paraphernalia. It will stay there where guests will see it.
Embarking on a two-year quest to travel across China's 33 provinces and capturing photos of the very different faces of China, including all 56 minorities, Carter has produced a moving tribute to the Chinese people. It's easy to forget all the different Chinas that there are and this comprehensive book puts them all together in one place. And what a place it is! This book is well over 600 pages and includes more than 800 photographs. Carrying just a backpack and a digital camera, Carter achieves the impossible, portraying Chinese people and their environments as they go about their daily business, as they sleep on the streets or on park benches, as they farm the soil, as they fish, swim, party and protest.
No words can do justice to the book; it's the photos that say it all. This beautiful video captures the heart and soul of the book.
These are rare, wonderful photographs. In his introduction Carter writes, "The snapshots in this book are not works of art. I was too preoccupied with participating, with reveling in the moment to worry about perfection." I have to disagree. These photos are works of art. If you are still in doubt, visit this tribute to the book in the Atlantic and tell me if you're not deeply moved. If any photos are works of art, these qualify. One can only marvel at how intimate they are, how Carter managed to win the trust of his subjects, at how he captures them at the perfect moment, whether they are shooting an arrow or walking out of a coal mine or peeing on the sidewalk. I asked Carter how he managed to be right there at the right moment:
Intimate moments were captured as a result of me not approaching subjects and situations as a "photographer", but simply by being there in the first place. My only priority at the time was total immersion in China's culture and humanity; the photography was an afterthought.
As he says in his introduction, "Where I have been, you will be; what I have seen, you will see." He visited one-third of all the cities and villages in China, so there's a lot to see. He captured the essence of every Chinese minority. And it's not just pictures. Each chapter begins with a beautifully written description of that chapter's region. These are not snips from Wikipedia or random web searches. The descriptions are as intimate as his snapshots. He writes, for example, of Heilongjiang.
I never in my life felt colder than here on the top end of China. Pain is actually the sensation I most vividly recall. During the bus ride to Beijicun, China's northernmost village on the banks of the Amur River, two elderly Manchurian women sitting beside me couldn't help but notice this underdressed foreigner shivering uncontrollably.

Wrapping me in the People's Liberation Army coats, they held me close in their arms until we arrived, the warmth of Chinese hospitality radiating in China's least hospitable climate.
As you'll see when you open the book, hundreds of subjects allowed Carter to enter their world, and to trust him enough to allow him to photograph them. This was something I wondered about from the first page: how did he win the people over and have them share intimate moments? Carter explained:
Winning my subjects' trust can be attributed to my sincerity in wanting to get to know them without having any kind "ulterior motive," as might a journalist who is more concerned with bylines and facts than the actual human being in their presence.
Finally, I asked Tom what his favorite photo is, even though I knew this was impossible to answer. I wanted to know which one(s) was closest to his heart. Here's one of those photos, and Tom's response.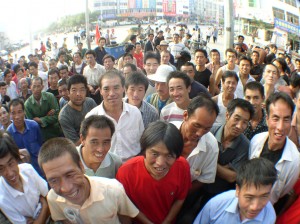 There are too many photos from this journey that have special and significant memories attached to them for me to recount, but one pic that I think really stands out is this one, taken in Yinchuan, the capital city of Ningxia. I came across hundreds of out-of-work men standing around a street corner waiting for day-labor, but they had spotted me as soon as I spotted them and immediately swarmed around me out of genial curiosity. I must have answered a couple dozen of the same questions ("Where are you from?" "Do you like China?" etc.) before I realized what a fantastic photo was right in front of me. The stories on each of their faces speaks volumes about China on so any levels.
You love China or you wouldn't be reading this. So get a copy of this book and experience what Carter has achieved. It belongs on all of my readers' shelves, or coffee tables, anyplace where it is within easy reach. You will want to open it again and again. Get it here; for a mere $16 this is a wonderful treat.
You can like Tom's Facebook page here, and visit his website here.