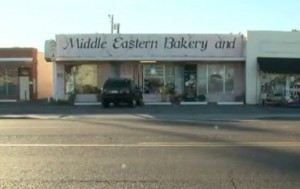 Since Trump's victory, my favorite Middle Eastern restaurant in Phoenix, Middle Eastern Bakery and Deli, has had its windows smashed — twice. I know the owner and his wife and it is kind of ironic that they are Christians (from Lebanon). Huge crowds lined up at lunchtime today to show their support, and I plan to go tomorrow. It is encouraging that the central Phoenix community has set up a GoFundMe page to help the restaurant owner and it has garnered nearly $11,000 in the past 24 hours.
They say it's too early to call this a hate crime, but I strongly suspect it is. And I expect we will see lots more incidents like this as racists and haters feel emboldened by Trump's election, by a man who called for the ban on all Muslims entering the US, by a man beloved by white supremacists and ultra-nationalists. Welcome to the Age of Trump, where the new national security advisor has said "fear of Muslims is RATIONAL" (his caps), and where Trump's strategic advisor has strong ties to the alt right. Since Trump's election, incidents of harassment and intimidation have soared. It's going to be a long and painful four years.
______________
Richard Burger is the author of Behind the Red Door: Sex in China, an exploration of China's sexual revolution and its clash with traditional Chinese values.