Well, I said the blog was closed but I can't resist putting up these images, which you need to click to enlarge.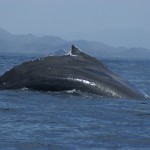 These are humpback whales, as seen from a boat several miles off the coast of Mazatlan. At one point, as they burst skyward as if out of nowhere, they seemed so close we could touch them. They are fiendishly difficult to photograph as they appear so suddenly and then disappear even faster into the deep.
After they've leapt up, the two whales plunge back downwards in perfect synchronicity, their huge tails hitting the water like spatulas. (Again, click to enlarge.)
A wonderful trip so far.