As I wrote here a couple of weeks ago, I recently had to put my 23-year-old cat Nick to sleep to put him out of his pain. This was an agonizing decision, but I had to do it because I loved Nick so much. It took me a few weeks to recover, but then, a few days ago, I knew the time had come for me to bring new cats into my home. What is a home without cats? I went to the Humane Society and adopted two kittens, brothers who look almost exactly alike. As soon as I saw them in their cage, arms entwined and looking so happy together, I knew these were going to be my next pets for years, hopefully decades, to come. I just wanted to share with you the joy these kittens, Archie and Zack, are bringing me.
This is Archie and Zack standing on top of their scratching board.
Archie is standing while his brother Zack, as usual, sits passively by.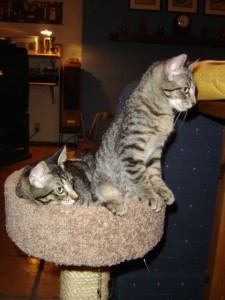 This is Archie looking down at the rest of the world.
And finally, this is Archie and Zack curled up together in a perfect Yin-Yang formation, in total harmony. They must be Chinese.