I leave early in the morning for a six-day trip to the world's most exciting city, where I grew up and went to school. If anyone there wants to hook up for coffee or a drink please send me an email. Blogging will be lighter than usual the next few days, but I'll do my best to put something up every couple of days.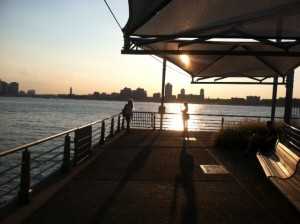 Standing by the Hudson River at sunset.
______________
Richard Burger is the author of Behind the Red Door: Sex in China, an exploration of China's sexual revolution and its clash with traditional Chinese values.