Sorry for the long silence. I've been traveling and dealing with VPN issues all along the way. Even using Witopia, Twitter and Facebook have been mainly inaccessible no matter where I go, using Chrome or Firefox. Sometimes Facebook will partly open, leaving me with an odd page that's more like a list, with no graphics, and then I can't navigate anywhere. So I have several Scrabble games in limbo and lots of unanswered messages and requests. You just deal with it. (And yes, I made the DNS fixes, to no avail. Maybe an issue with my MacBook?)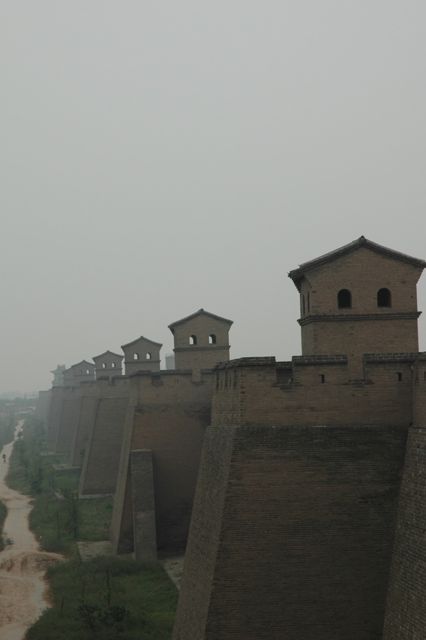 Pingyao is gorgeous and has all sorts of treasures that gave me deeper insight into life in ancient China. The Ming architecture is breathtaking. On the other hand, the city has been so touristified that a lot of the charm is diminished. So many hawkers and cheap shops selling cheap lacquer boxes and the same tired scrolls and Mao statues. My friend Ben, who went with me and who took the photo, said it just right: "When you're in Dali, you want to stay. You feel like you can stay a long time. In Pingyao, you want to see the buildings and then you just want to leave." I couldn't have said it better. I can't pinpoint exactly why Dali is such an inviting and charming experience while Pingyao is more of a lets-see-the-sights-and-get-out-of-here kind of place.
I most enjoyed what I would have thought would be relatively dull, namely the government administration buildings and the banks. And the wall, of course. You have to marvel as you step through this time warp and see how China administered far-away cities so many centuries ago. It's most magical when you can get away from the tourist coaches and vendors. Maybe that's why I enjoyed the administrative buildings and the banks, where I felt immersed in what life was actually like in China in centuries past. [Corrected my historical error – thank Billy.]
______________
Richard Burger is the author of Behind the Red Door: Sex in China, an exploration of China's sexual revolution and its clash with traditional Chinese values.