[NOTE: For some reason this very old post has been getting a bizarre amount of traffic over the past few days. Can someone please leave a comment and tell me what brought you here? Maybe a facebook or twitter link? Thanks.
Update: Okay, I know the source. Whoever posted this on Facebook and said the photo shows Indian soldiers is misleading a lot of people.]
Photo of the day, Chinese soldiers helping villagers in a flood zone (via weibo, via a friend on twitter):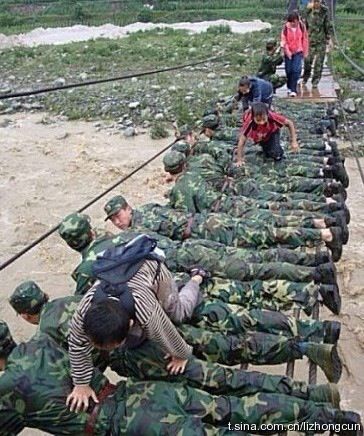 I admire these men, even if I don't envy them their jobs.
Update: For more extraordinary photos, this time of China's version of "football hooligans," go here. You won't be disappointed.
______________
Richard Burger is the author of Behind the Red Door: Sex in China, an exploration of China's sexual revolution and its clash with traditional Chinese values.