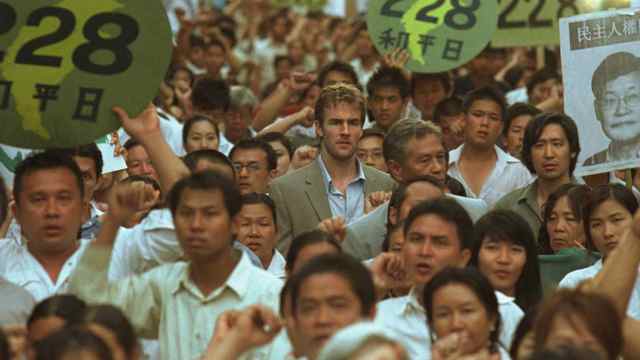 On August 6, the 2009 thriller Formosa Betrayed will be seen for the first time in Taiwan, about two weeks after it becomes available here on DVD. You should all see it, and remember that Chiang Kai Shek had nearly as much blood on his hands as Mao, and not very long ago Taiwan was a brutal police state capable of unspeakable crimes against humanity.
I watched the movie last night. It stars Dawson Creek's James Van Der Beek, and despite its obviously low budget – it lacks the slick veneer of a Hollywood blockbuster, and has none of the dazzling effects of, say Silence of the Lambs – it still sizzles.
Allow me to snip Wikipedia's plot summary:
Inspired by two actual events, one surrounding the death of Professor Chen Wen-Chen (陳文成) of Carnegie Mellon University in 1981, and the other the 1984 assassination of journalist Henry Liu in California, Formosa Betrayed is the story of FBI Agent Jake Kelly's (James Van Der Beek) investigation of the murder of Henry Wen (Joseph Forunda), a Taiwanese professor in Chicago. With the help of his partner Tom Braxton (John Heard) and a sharp Chicago police detective (Leslie Hope), Agent Kelly discovers that the murderers have fled to Taipei, capital of the Republic of China.

Agent Kelly is sent overseas to assist the Republic of China government's search for the killers. Initially guided by an American diplomat (Wendy Crewson) and a KMT official (Tzi Ma), he soon realizes that not only is he an unwelcome guest in a foreign land, but that something more treacherous is happening beneath the surface.

With the help of Ming (Will Tiao), a Taiwanese activist, Agent Kelly discovers the unsettling truth about the island, once described as "Ilha Formosa" ("beautiful island") by the Portuguese, leading to dangerous and painful consequences. Agent Kelly finds himself on a collision course with the U.S. State Department, the Chinese Mafia, and ultimately the highest levels of the Kuomintang, where this FBI agent discovers how a complex web of politics, identity, and power affects the lives and destinies of all the citizens.
I had to smile when, early on in the film, Agent Kelly checks into a Taiwan hotel and is handed the keys to Room No. 228. It's a shame that just about no one knows what 228 is, about how on that day, February 28, 1947, an incident took place that would unleash the full savagery of the Chiang Kai Shek regime, resulting in the wanton slaughter of as many as 30,000 innocent Taiwanese citizens. It was a tragedy that makes Tiananmen look trivial. It is shocking that it remains unknown. But to Taiwan's credit, it is a great weight on the nation's conscience, and everyone there knows about it. It took decades before the government opened up about it, but now there is an Er Er Ba park and museum with photos of the victims and all the sordid details, and it is a source of shame and grief to this day. This is heartening, though of course it doesn't excuse or lessen the crimes committed by Chiang's willing executioners.
Formosa Betrayed is based on an all too true story, and your blood pressure has no choice but to rise as you see how the US State Department in effect allowed the Taiwanese government in 1981 to murder a US citizen critical of its regime, and to then cover it up by murdering its own assassins. Along the way, those trying to help bring the truth to light are murdered, and one of them, in the film's most disturbing scene, is tortured with a blowtorch.
There is a propaganda element to this movie, which is clearly an advocate for Taiwanese independence. It makes the point that Taiwan has been exploited for centuries, ruled by the Japanese and then by Chiang (at first welcomed as a hero), and that the fate of the island was then put into jeopardy by the US's recognition of the PRC. Shouldn't this country, the film shouts at you, be allowed to be independent?
That, of course, is a thorny question and there's no way for me to discuss it without feeling depressed, because I sadly do not believe it's going to happen.
But no matter what our viewpoint on that subject, you should know the Taiwan that has somehow been airbrushed from modern memory. You should know with what casualness and cruelty Chiang's army murdered the people of Taiwan. And you should know that, once again, in the name of "pragmatism" the US in 1981 allowed them to get away with murder. It's a taut, well-made movie that will leave you furious. Van Der Beek is actually quite excellent as the hero who will not compromise in the name of realpolitik, and the man who fought to make this film possible, Will Tiao, is absolutely superb as the poor fellow who tries to help Agent Kelly find the assassins, and who ends up facing a gleefully sadistic torture crew. He is also the film's writer and producer.
If you're in Taiwan, please spread the word that the film is coming and must be seen. If you're not in Taiwan, rent the DVD and see a side of Taiwan we all want to forget.
Today, Taiwan is simply my favorite country on earth, civilized, urbane, wonderful in just about every way (politics aside). It is so hard to believe that only three decades ago people advocating independence were being shot openly on the streets. You can't know contemporary Taiwan if you don't know the Taiwan of the nost-so-distant past.