As everybody knows, it was always a matter of 'when' not 'if' stunt protesters would descend on the Beijing Olympics.  Sure enough, today somebody climbed a 100-foot electrical pole near the Olympic Green to fly a "One World, One Dream, Free Tibet" flag for the length of time it took the Beijing Fire Department and PSB to arrive and take it down.  The protesters were all–unsurprisingly–foreigners.
But back to the if/when thing…I've maintained all along that China risks losing face in the international court of public opinion not because such stunts will happen (they will, nothing can change that) but what the reaction will be by official representatives on the ground, especially toward any media outlets interested enough to cover such protests.  The answer so far: Not well.
ESPN Blogger Arty Berko is in Beijing covering the games as a credentialed journalist.  Following word of an 'incident' at the Green, he rode his bike over to check it out.  Berko reports:
There was a crowd of about 100 people down the hill from where the post was located; policemen were located at the top of the hill, closer to the post.

I dropped my bike and started taking pictures. After a few minutes, I wanted to try to talk to the man up on the post. So, I climbed up the hill to get a closer look. I yelled out, "Hey buddy, who are you?" The policemen turned and looked at me, but didn't react. But then, a man in civilian clothes (he was wearing shorts and a T-shirt) started screaming at me and tried to wave me away.

I held up my credential and yelled out, "TV! Media! Press!"

The man kept yelling, speaking mostly in Mandarin; but through some broken English, he pointed to the stadium, saying, "You're only here for [this]." He was implying that I was only here to cover the Games and this protest was none of my business. Then, he screamed, "Who are you? Who are you?" I kept trying to explain I was credentialed media.

Some of the policemen walked toward me and grabbed me by the arm. They were angry and aggressive while holding on to me, yelling in my face. But I still kept yelling, "TV! Media! Press! TV! Media! Press!" The policemen were speaking into their walkie-talkies, but I didn't understand what they were saying.

I then went back to the bottom of the hill and took more pictures. By that point, a fire truck pulled up and moved a cherry picker up the pole to try to bring down the protester. The same civilian came down the hill and started screaming at me again. Some of the onlookers joined in, and I was circled by people who started pushing and shoving me, screaming and pointing to the stadium. I never got hit or punched, but I was definitely physically accosted. I was trying to be smart about it and I wasn't hitting anyone, but I kept yelling, "Media! Press!"
Am I the only one who thinks that before the Games are all over there is going to be at least one ugly incident involving a foreign journalist, the police and/or hopped-up Chinese spectators?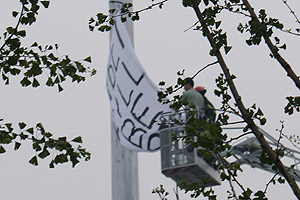 For what it's worth, I think the kinds of stunt protests the four activists pulled this morning are more self-aggrandizing than anything else.  If people were serious about reaching out and trying to effect change, they might start by writing the signs in Chinese. (UPDATE: Several are reporting that there were also Chinese signs as well.)
That said, if the ensuing confrontation was any indication of how the local boyos and the PSB react to protests/media spectacles during the games, then we're in for a rocky few weeks.