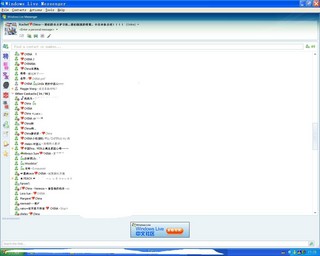 [Click to enlarge]
One of my colleagues was using MSN and I noticed that by every single name on her friends list there was a big red heart followed by CHINA in all capital letters. She said she started hearing from friends this morning that people throughout the country were going to do this to show solidarity and love of country. I then opened my own MSN friends list and saw a lot of the same. I wouldn't be surprised if by day's end there were tens of millions of MSN users proclaiming they "heart CHINA." What was so extraordinary, according to my friend, is how fast this caught on and how "absolutely everyone" is doing it.
Nothing like a little controversy to rally the masses. I would say patriotism here at this moment is at an all-time high.
I was talking with a business acquaintance today who asked me whether Americans "hate the Chinese people." I tried to explain that we don't, but that there was a lot of misunderstanding between the two countries and a lot of misconceptions. I tried to explain very briefly why some Americans have problems with China's government. She said she wasn't surprised because our government systems are night and day. She went on to tell me just how much the Chinese love having a strong central government that they know will always be there, not to be put out of office every four years, and that will take care of all its people's needs. She hearts CHINA and its government, big time. She wonders why we can't all see the advantage of that kind of system, which to her makes total sense. It is the way it should be, and it is the way it's always been in China.
There many things I wanted to say, especially about how there are quite a few people outside of Beijing and Shanghai whose needs are perhaps not being met too well, but decided this wasn't the best time for that conversation. This is not a good time for any political discussion here, as anti-cnn seems to have won over the hearts and minds of just about everybody I know, and convinced them we foreigners do not and never can understand — let alone truly heart — CHINA.