Protesters this morning in front of the American Institute in Taiwan (the equivalent of the US embassy)
I just had one of those memorable experiences that blogs were created for. It started as I arrived at work, which is right up the street from the AIT, the State Department's office in Taipei. Usually there's a long, snaking line in front of the AIT building as Taiwanese hoping to visit America wait to apply for a visa. Today, however, I saw angry demonstrators wielding signs, scores of riot police in full protection gear, hordes of television reporters, their satellite trucks parked nearby, and a general sense of chaos. Loud music blared from vans (it sounded like someone singing a patriotic song), the roar punctuated by police whistles and angry shouts.
I ran up to my office, grabbed a digital camera and went back down to take some pictures and see what all the fuss was about. I began snapping pictures left and right, and I noticed some of the TV cameras were turning their cameras on me taking pictures, as though I had anything to do with the riot. Strange, I thought.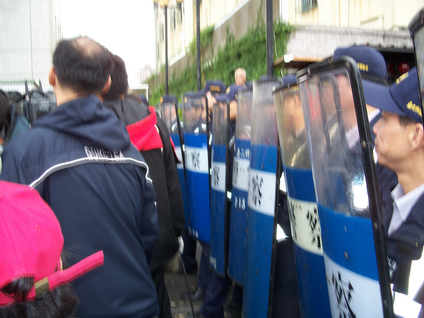 Taiwan's police, ready for action.
The demonstration was in regard to an issue I admit I know nothing about. Apparently it's an ongoing source of rage against America that we force Taiwan to buy weapons systems that are obsolete and that we need to get rid of. Whether thisoutrage is grounded in any kind of reality I just don't know. But it was clear at once that there was one enemy to these demonstrators, i.e., America. And Americans. This rally was all about Yankee Go Home!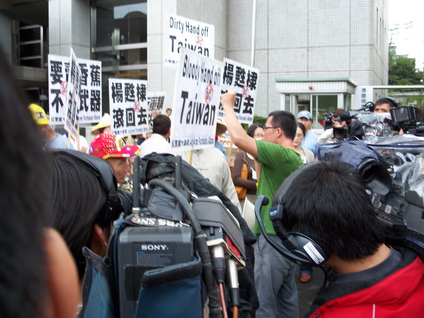 An angry speaker chants anti-American slogans.
So the cameras are going out of their way to keep taping me as I take my pictures. And suddenly, a geezer in a straw hat wielding a large sign starts screaming at me in Taiwanese. I thought he was asking me to take a picture of him and his sign, so I raised my camera to do so. To my shock, he lunged toward me, still screaming, as if he was going to hit me with the sign. He then shouted, in broken English, "We hate you! Get out of here! Get out of Taiwan, American!" The TV cameras were taping the whole thing (all 5 seconds of it). With that, a group of police officers walked up, got between the angry demonstrator and me and led me away, insisting that I leave "for my own protection." I was the only Westerner there, and apparently this wasn't a good place for Westerners to be. For the record, the police were exceptionally courteous and I don't blame them for asking me to leave.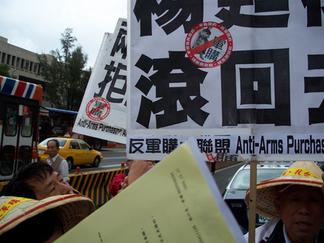 This is the guy who screeched at me as though I were his mortal enemy.
This was an interesting way to start my Friday morning. It was another reminder that we Americans aren't beloved everywhere we go, and also of how Taiwanese (at least some) seem to thrive on angry demonstrations. There always seems to be at least one angry political demonstration going on somewhere in town. I'm all for the right to demonstrate, but I have to say it's upsetting to see demonstrators lose control and become irrational.
About the charge that we force the ROC to buy obsolete weapons – can anyone offer some insight?