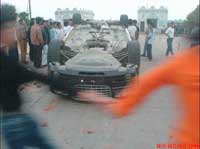 Images courtesy of Radio Free Asia Cantonese
Another diploma riot has broken out in China, this time at Jiangxi Fashion Institute (江西æœ?装学院) and Ganjiang Institute of Techonology (赣江è?Œä¸šæŠ€æœ¯å­¦é™¢) in Nanchang (å?—昌). As many as 10,000 students may have participated, burning a teaching building and attacking the luxury cars of school administrators. Other looting and violence occurred, though there's a question as to whether it was carried out by students or perpetrated by third parties taking advantage of the situation.
The International Herald Tribune reports:
The paramilitary People's Armed Police were deployed to contain the protests and at least five people were detained, the report said.

It said the protesters were ethnic minorities, including some 2,000 Uighurs from China's Muslim northwest.
The only other source suggesting this is the notoriously unreliable Epoch Times.
According to the Washington Post, the riots were sparked by a CCTV report: "China's state television aired a lengthy investigative report on Monday on how the privately run college had recruited about 20,000 students, well above approved quotas, in the past three years by promising them diplomas it was not qualified to award."
The incident is similar to the Shengda Riots in June. The Economist explains how changes to education policy have led to universities launching semi-private side schools for those who can afford tuition but did not qualify for entry. Shengda lured students with the promise that the degrees they received would bear the name of Zhengzhou University, but then issued diplomas with the qualifier "Shengda". Students were angry over what they, quite accurately, believed would make their diploma less impressive. The Economist also points to a CASS study determining Chinese households spend more on education than any other expense.
The students at the two Nanchang schools reportedly will receive recognized diplomas, though the schools violated quotas. Part of the problem is poor regulation of private schools by the state; but part of the problem is the power of certificates. Too often the certificate is held in higher regard than ability; this is why the students of Shengda complained about their diplomas accurately giving the name of their school – but its also why they paid and signed for the subterfuge to begin with. Consumers of education in China often shop for schools based on how it looks rather than whether it works. My experience in EFL in China supports this – English, and foreign teachers, are often used as promotional material, rather than educational. Students are routinely passed when they ought to fail because otherwise they will take their business elsewhere. Adult students will pursue English certificates because it will increase the chances of promotion – to a job in which they will never use it. Education is often a racket in China, but one in which many consumers are complicit.