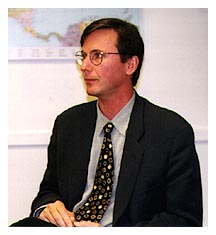 UPDATE: Unfortunately the comments thread seems to have been corrupted. Please leave new comments here.
A couple of years ago a friend of mine wanted to show me the dorm he lived in at Fudan Daxue. I was very curious, having heard how students were crammed into famously small quarters. At the building's entrance, however, a burly security guard stopped us and said no foreigners were allowed in the building. My friend tried arguing, but the guard was steadfast. I was rather resigned about it; there were many instances in China when I was turned away or treated "specially" because I have round eyes.
Former Washington Post bureau chief in Beijing John Pomfret succeeded where I failed in 1981 when, at the tender age of 20, he was permitted to actually live in a student dorm at Nanjing University. He was one of the very first American students to study in post-Cultural Revolution China, and how he pulled it off is a story in itself, involving tremendous determination plus lots of guanxi. His new book, Chinese Lessons, tells the story of how Pomfret first came to China to study, the students he lived with, the women he fell in love with and the extraordinary and at times shocking things he saw and experienced along the way. The glue that holds it all together is Pomfret's tracking of the lives of four of his classmates. Like a classical rondo, the book goes off in different directions at times, but keeps coming back to these students' lives, anchors that give this sprawling book its form and organization. And the students' lives, so very different, offer up a living, breathing microcosm of China in all of its volcanic and unpredictable magnificence. So intimate, and yet so sweeping.

Like Simon Winchester in River at the Center of the World, Pomfret is a great spinner of yarns. The book is basically one story after another, jumping back and forth through time – both through Pomfret's own time in China, and the lives of the four students, from their early years to the present. (His depiction of their childhood during the height of the Cultural Revolution makes for some of the most poignant and harrowing copy on China I've ever read). Chinese Lessons is hard to categorize, as it's part memoir, part history lesson, part biography (of the four students) and part political/social analysis. No matter. Pathos pervades every page as the book moves ahead with its own seamless logic. Pomfret takes us on an unforgettable journey, sharing a bird's-eye view into a China precious few Westerners ever saw, a China that bears little resemblance to the behemoth we know today. (When he first visits Shenzhen in 1980, it's nothing more than a series of villages dotted with rice paddies, and no building higher than five stories.)
The chains of the Cultural Revolution were still clanking when Pomfret arrived at his new home, the dorm in Nanjing. The lives of his students were all indelibly shaped by mankind's most depraved social experiment. His description of the brutality his classmates experienced and, alas, participated in, will shock and horrify even those of us who have "read it all" when it comes to the CR. The image that will stay with me forever is his classmate's depiction of how his mother was branded a class enemy during the CR, and the boy was forced to savagely denounce her in public, heaping abuse on her and leading others to physically and verbally assault the poor woman who, needless to say, had done nothing wrong. And then, at night, the student tells Pomfret how at dinner time his mother cooked the meals as she always did, and the family ate together in tortured silence, no one saying a word about the horrors in which they had participated hours earlier, and which would continue the next day. I sat there trembling as I read this, and all my hatred of Mao and the sickness he represented came to life, as it did many times during my reading of Chinese Lessons.
So much, there's so much I want to reproduce here. I own no other book with as many dog-eared pages as this one. Pomfret tells of a class visited by a party official that sums up the insanity of the ongoing reverence for the party.
The party secretary spoke up, and with perfectly twisted reasoning, offered the students a lesson laced with evasion and threats. "It's natural to have doubts," he began, "but this doesn't necessarily have to shake our belief in Marxism.

The secretary's argument was as simple as it was warped. Look at what the Communist Party has done to China: killing 30 million people during the Great Leap Forward, ruining the lives of millions during the Cultural Revolution. Despite these disastrous failures, he said, it remains in power. That's proof of the party's superiority….

No matter what the party would do to China, no matter how many lives it crushed, it remained unaccountable and always strong enough to rout any challenger. The Communist Party will stay in power because the party will do anything to stay in power.
So much. I can't go into the lives of the students Pomfret tracks through their astonishing transformation into business people, corrupt party leaders and refugees – you have to read the book. (Repeat, you have to read the book.) Then there's Pomfret's first-hand account of Tiananmen Square and how he was thrown out of China for aiding and abetting a student leader. (Pomfret's guilt at the misery this caused the young man is palpable today, 16 years after the fact.) Reading his account of the bullets flying and the blood pouring, I thought of all the trolls who insist there was no massacre and that the party did "the prudent thing." I think of those who now say, Thank God Deng took such assertive action. And I wonder if there really are two realities, distinct and separate. One thing is clear: John Pomfret hates the party with every ounce of his being, precisely because he loves the people of China with such passion. I know my friend Joseph Bosco and his friend Philip Cunningham and their friends who I also know and respect truly, truly believe it all turned out for the best, and the party saved China from ruin and chaos. But in Pomfret's reality and in my reality, the party is malignant, erasing all of China's great traditional values and leaving so many of its people morally bankrupt.
One of his former classmates tells Pomfret in a recent conversation his thoughts on Mao, and it struck home with me.
Let's look at China from the Maoist perspective," Zhou said. "Let's give the Chinese government the benefit of the doubt. Why did the slave society overthrow primitive society? Because its economy was more advanced and it was richer. The same is true for why feudal society overthrew slave society and why capitalist society replaced feudal society. But then we come to Mao. Who was Mao? What did he represent?

…Did Mao represent economic forces stronger than capitalism? No. He represented the most backward forces in China. He didn't even represent the working class. He represented thugs. It wasn't a Communist revolution. It was a thug's revolution. That's our real history."
Go and defend Mao to your heart's content, my trolls. I say – and I believe Pomfret is saying as well – that Mao was in every way a bad and sick thing, as vile and as unforgivable as any other mass murdering bully. 100 percent bad, zero percent good.
Let me add that John Pomfret is one of my heros. Do a search of this Web site and this will become instantly clear. When I lived in Beijing, it was Pomfret who called the CCP on their SARS cover-up, creating a nuisance at a time when the CCP wanted to enjoy their annual congress without annoying stories of death and disease. It was Pomfret, and later his replacement Phillip Pan, who kept exposing the party for what it is, and I am forever grateful for his honesty, his fortitude and his courage. All those things come across in Chinese Lessons, though nothing comes across as clearly as his deep and undying love for the Chinese people, and his heartache at what the beloved party did to them and does to them to this day.
So much. Pomfret's descriptions of the dorms are so vivid, you can feel and smell them as you read. He brings you right there. One of his descriptions of a scene in 1981, when the Chinese girl's volleyball team won against the Japanese team, made me cringe and smile at the same time – I could see something similar happening today. Pomfret was having lunch with friends when the news broke.
…[W]e heard a cacophonous roar that accompanies the news: this was the country's first world championship in any sport. We dropped our chopsticks and headed to the main road, where we were confronted with a moving mass of tens of thousands of young people bearing Chinese flags…The victory was all the sweeter for the people of Nanjing because it was inflicted on the Japanese in Tokyo. Hatred of Japan was the deepest, most persistent feature in China's approach to the outside world.

Along the way we bumped into several more classmates. I turned to look at several of them, and they were crying. "The Chinese have stood up," one of them kept yelling, the same expression Mao used in 1949. Indeed, all around me, young men were weeping. I was dumb-founded. One volleyball victory was enough to release years of pent-up passion?
Yes, please read this book if you want to understand the forces that have shaped the psyches of today's young Chinese, if you want to really understand the ongoing loathing of the Japanese (believe me Yasukuni Shrine is all but irrelevant) and if you want to understand just how deep and institutionalized China's corruption is. On the Japanese, this was my favorite gem:
The Communist Party has also encourage Japan-bashing as part of a policy to replace the discredited ideology of communism with a resentful nationalism designed to keep the Chinese united through hatred or fear of the outside world. Since the 1970s, partly out of guilt, the Japanese have poured tens of billions of dollars in low-interest loans and donations into China – building airports, highways, factories, and ports as well as planting forests. These contributions have never been publicly acknowledged by the Communist Party. After years of complaints by the Japanese government, China finally allowed a plaque to be erected at the gleaming new Beijing International Airport acknowledging that it was built with a low-interest Japanese loan. The plaque was hung in a hall in the administrative wing at the airport, where no traveler would ever see it.
Last point (and I could go on for days – I haven't even touched Pomfret's horror stories of the TS massacre). Pomfret proves something I've long suspected: that the hysteria over the fall of the Soviet Union and the ensuing deification of Deng-like leaders who would save China from the "chaos" that comes from democracy and reform – it was all manufactured by the state. Nothing scared the Party shitless like the fall of the USSR, and they instantly made "peaceful evolution" – Gorbachev's great legacy – "the new bogeyman," as Pomfret says.
"Peaceful evolution, the party feared, would certainly bring to an end its monopoly on state power. In 1990, the Communist Party organized a series of seminars called the Anti-Peaceful Evolution Class, where questions such as "Who was going to be China's Gorbachev?" were raised to prepare against that possibility, not welcome it.
Now, when we hear the chorus in the China Daily forums going on about how the party saved them from Russian-style chaos, anarchy and corruption (hah), we all know where it came from (not that there was ever any doubt).

Chinese Lessons is full of insights, surprises and frequent shockers. To those who have never lived in China, it will be an eye-opener. To those who have lived there, it will provide many smiles (often ironic ones), many bittersweet memories and many "Aha" moments. ("So that's why they always…") The book isn't perfect. It seems to wander at times, and you can easily lose your bearings as the narrative weaves from one person's life into another, sometimes with no apparent chronological order. But those are very small things. Chinese Lessons is a beautiful book, a page-turner, and it's destined to become required reading for those who want to understand how the China we know today came to be, and why the Chinese people, despite being royally screwed (and tortured and murdered and plundered) by the party for more than half a century, will keep on giving them "the benefit of the doubt." It's a painful story, one of resignation, frustration and heartache, with the light at the end of the tunnel being the sheer resiliency and industriousness of the Chinese people themselves, who, though they don't know it, could achieve greater heights of accomplishment if the party never existed.
Note: This is a review of a pre-publication copy I was sent. The book will be available soon. The sooner the better. You can order it here.