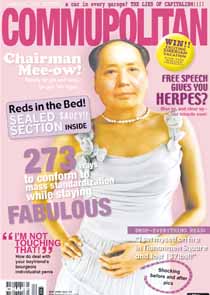 If so, then why did these Chinese students in New Zealand get so bent out of shape over the spoof above? From another blogger (source of the photo as well):
A mob of angry Chinese students protested at Massey University yesterday after Chairman Mao was lampooned on the cover of the student newspaper. Students likened the cover of Chaff, which this week satirises women's magazine Cosmopolitan, to the anti-Muslim cartoons circulated around the world in February.

Tempers flared outside Massey's library as about 50 Chinese Massey and UCOL students and a Chinese lecturer confronted Chaff staff. Students said the issue is racist and the last straw, as many have also suffered verbal abuse on the streets of Palmerston North.

Tianxiang Mao said it was common for Asian students to be lambasted with racial slurs when driving. "People yell `F-ing Asians' when we are in the car driving down the road. I don't say anything. What can I do?�

UCOL student Xing Tang said Chaff staff are ignorant of Chinese culture. "Chairman Mao is like Jesus to us," he said on the verge of tears. "We pay $20,000 in fees and a Musa fee (which funds Chaff) and this is how we are treated.�
This raises all sorts of interesting questions now being debated over in the Duck Pond – is Mao the equivalent, in China, of Milton Berle or of Jesus? Inquiring minds want to know. All of my friends in Beijing tell me Mao is basically an irrelevant embarrassment, someything they pay as much attention to as the idiotic propaganda on CCTV. Am I just making the wrong type of friends, people who don't really represent today's China? Is Mao really venerated by today's younger generations? Or is the answer some complex equation that we hapless Westerners can never hope to understand?
P.S. I know, this is ten days old already, but I'm just catching up after my Internetless two weeks in China…
[Edited, 18:35.]