Who would have thought that ueber-neocons Chucky Johnson and the man in the funny hat Roger Simon would bring us such a precious gift? From the site of Open Pajamas Media (aka Open Sores Media, aka Open Sewers Media, and sorry, I forget the URL):

Read the whole story over at Chucky's favorite site.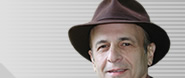 Chairman Simon, OSM's Great Helmsman
Update: I see Michael Turton beat me to this one.