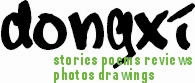 From Donxi magazine's press release:
Dongxi is a China-wide magazine gratuitously publishing words, thoughts, ideas, lists, letters, reviews, poems, translations, short stories, images, photos and artwork.

Submissions must be sent by e-mail to dxzine@gmail.com….

Subscribing is easy. E-mail us a postal address (and preferably a submission) and all future issues will be sent upon publication….

Dongxi strives to represent the widest range of of voices and opinions in China today, but contributions racist, sexist, homophobic or overwhelmingly political in nature will be subject to critical consideration by the editorial board.
While this is still in its infancy, it sounds promising. The creators describe themselves as "three non-Chinese nationals spread between Beijing, Hangzhou and Guangzhou with ten combined years of living and working in China." They tell me they are willing to pay for good contributions. Please consider sending them a submission.