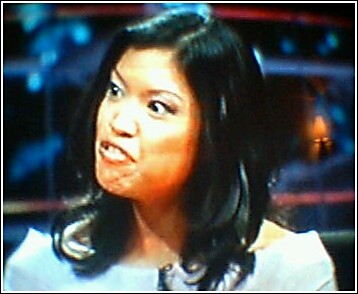 It's sweet to see Ms. Maglalang getting her comeuppance for her Macbeth-like plotting, conniving and prevaricating. All over the blogosphere, you'll see references to her outrageous efforts to demolish the character of Cindy Sheehan in the same style the GOP noise machine tried to destroy Joe Wilson and John Kerry.
First, Media Matters takes us on a step-by-step chronological journey of how the slime machine works, starting with Drudge (of course), who then passes the baton to Maglalang, who then works in concert with falafel man Bill O'Reilly. Never mind that they so butchered Sheehan's quotes that it amounts to bold-faced lying, and never mind that they wildly (and knowingly) take things out of context — that's the formula, that's how it works. And, voila! A totally false but contagious meme is born.
Then, to underscore Maglalang's issues with being a compulsive liar and human-body-hating freak, Atrios links to this oldie but goodie, describing how Maglalang is prudishly and neurotically obsessed with Christina Aguilera's body (draw your own conclusions about that) and how she literally makes stuff up with no compunction. It's as though she's just pulling her "facts" out of her …whatever.
Tbogg then throws her own "In Defense of Internment" argument back at her, making the case for Maglalang to be thrown behind the barbed wire she'd love to see encircling America's Moslems. Lock her up, I say.
Ms. Sheehan responded to Maglalang's venom with dignity — angry dignity, that was far more civil and humane than any of Michelle's cackling.
I didn't know Casey knew Michelle Malkin…I'm Casey's mother and I knew him better than anybody else in the world…I can't bring Casey back, but I wonder how often Michelle Malkin sobbed on his grave. Did she go to his funeral? Did she sit up with him when he was sick when he was a baby?
Not surprising that wherever you go today, Maglalang's name is everwhere for her hit job on Cindy Sheehan, who, quite ironically, is now emerging as quite the folk hero of our time.
Liberal Avenger illustrates Maglalang's specious rationalizations of racial profiling (which perhaps can be rationalized, but not with Michelle's stupid reasoning).
Martini Republic, who's been all over this story, points out the absurdity of Malkin complaining today about hate mail she's receiving ("people in glass houses…").
Malkin Watch says our lady of perpetual venom just keeps digging herself in deeper with her easy-to-fisk lies about Sheehan.
The Net is teeming with examples of Malkin fatigue. It's everywhere. Let me just close with a final example and a healthy clip from the irrepressible Rude Pundit, who refers to Maglalang as "a creeping nutzoid."
All around Left Blogsylvania you can read articles about Cindy Sheehan, the mother of Casey Sheehan, a soldier who died in Iraq, fighting in Sadr City back in April 2004, shot in the head. Cindy Sheehan has become one of the leading voices of families of soldiers opposing the war. She now sits a few miles outside of President Bush's ranch in Crawford, Texas, along with other anti-war protesters, waiting to speak to her son's Commander-in-Chief, to tell him to bring the soldiers home. She wants to speak directly to Bush, not to his lackeys and handlers. Cindy Sheehan's nation didn't elect Stephen Hadley, the National Security Adviser, who did talk to Sheehan for 45 minutes this week. No, Bush is the President of citizens of a republic and, as such, in an ideal republic, is merely the equal of each and every one of those citizens. She has met with Bush before and came away from the occasion sickened by it.

All over Right Blogsylvania, the creeping nutzoids are looking for any way to attack and discredit Cindy Sheehan, for, like for so many non-violent protesters before her, the reaction to her silent disobedience shows the true face of those who oppose and wish to silence her.

Let us ponder for a moment the sensibility of a man, our President, who refuses to give Cindy Sheehan the time of day. Trent Duffy, speaking to the sweaty press in Crawford, declared that Bush met with her in July 2004, "and he was glad to meet with her at that time," as if Cindy Sheehan had her one shot and the President doesn't need to give the time of day to her anymore. Maybe if she donated $100,000 to the Republican National Committee, he'd find some more time.

Public relations-wise, this is an easy one, isn't it? If you're the President, you meet with Sheehan. You invite her in. You give her some lemonade. You listen. You say you're sorry. And then you let her go back out. PR problem over, no? Fuck, while she's talkin', you can have monkeys dancin' in your head. But doesn't this seem like a no-brainer?

Unless, of course, you don't give a shit. Unless, of course, you think of yourself as unquestionably right and, frankly, you couldn't give a happy monkey fuck what the opposition says. And, of course, Bush doesn't.

So often symbols of protest are created by the power of the opposition. Right now, Bush is making Cindy Sheehan into a more powerful figure than he could ever imagine. Than he could ever wish for himself. In the end, if Sheehan indeed becomes a new Rosa Parks, then, like the war itself, the President will only have himself to blame.
No, he'll also have Bill O'Reilly and Michelle Maglalang to blame. She was a curiosity a few days ago. Then they turned the big guns on her, and whaddayaknow, a star is born. Thanks for your good work. Now let's watch Fox News and Rush Limbaugh continue running on overdrive with stories of Sheehan torturing small animals and passing out ricin-soaked brownies at the playground.