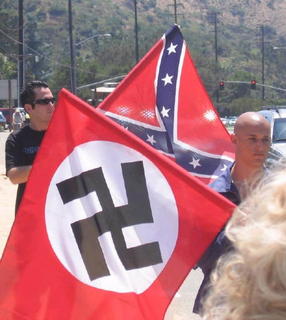 Superblogger Dave Neiwert has a typically exquisite post on what the Minutemen are really all about. The patina of respectability and patriotism racists like Michelle Malkin sought to cast on the neo-fascists is belied by Neiwert's reporting.
I've long held that immigration reform is an important issue that requires serious discussion, but I don't believe for a moment that scapegoating and harassing border crossers is going to provide any solutions. My experience has been that if you scratch beneath the surface of those who do, you quickly find that they are more likely to be concerned with Latino (or any nonwhite) immigration, not illegal immigration per se, though of course they pay lip service to the latter.

The Stormfront forum is especially enlightening, since it is a specifically neo-Nazi chatroom. Especially noteworthy were the many posts questioning the use of the Nazi symbology at the rally, since it would "turn off" many whites. It's worth remembering that most dedicated racists take care not to let it show publicly — unlike these fellows. But the whole thread makes clear to what extent these extremists now move among allegedly "mainstream" right-wing operations and not infiltrate them, but fully hijack them.

And as much as they might disguise themselves in the process, the vicious nature of this contingent eventually manifests itself.
Theere's a lot more in this post about just how ugly and racist the Minutemen are, based on first-person reporting of their orgies of hatred rallies. Not that I ever doubted it; seeing them lionized by the Malkin-Johnson noise machine was a telltale sign.