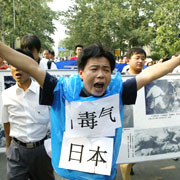 Another interesting article on rampant Japan-hatred on the part of many Chinese, young and old.
With his trim, camel-colored jacket and stylish haircut, Lu doesn't look like a political zealot. But his cool demeanor belies the heat of his anti-Japanese views. Once a fan of Japanese movies and cartoons, Lu now says that by confronting China in recent incidents and refusing to apologize for its aggression in World War II, Tokyo is headed down "a fascist road."

Lu's uncompromising views are shared by many Chinese. They help explain why relations between China and Japan have plummeted to their lowest point in years.

"We should teach the Japanese a good lesson and let them know how tough the Chinese people are," says Li Jin, 28, a freelance writer. "Maybe we should nuke them once and for all."

[…]

"I think the Americans have the wrong friend. Japan is like a mad dog, and sooner or later, it'll cause the U.S. great trouble," says Zhang Yihua, 32, an advertising designer.

[…]

Even those too young to have experienced the war are bitter. "Japan brought a lot of harm and pain to the Chinese people. Millions of people died," Lu says. "This is history that nobody can erase."

Xu Yong, 55, a professor at Beijing University, spent a year as a visiting scholar in Japan and says he counts many Japanese as friends. But he castigates their "very dangerous and evil" government and worries about "the thirst for blood in the Japanese culture."
I've heard all the arguments, and I can truly understand what's at the root of the extreme animosity. (Which isn't to say I approve of it or like it, just that I know where it's coming from.) My one concern is that wearing this animosity so prominently on its sleeve does little to improve China's image in the eyes of the world, and instead makes its people appear immature and barely in control of their emotions.
Thanks to Tian for the link.