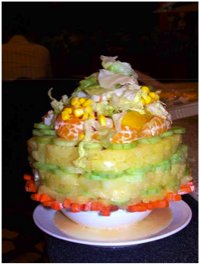 This is from an amusing post over at Boing Boing. The caption:
This is the best thing I've seen in a long while. Robyn Miller sez: "This is a photo from a Chinese PDF manual. The manual explains, via text and a lot of fun photos, how to cram as much food as possible on one of those tiny Pizza Hut bowls at the salad bar. They're only allowed one trip. My cousin lives in Beijing. When he goes to Pizza Hut, he says this is what most people are busy building."
The post has links to more reflections on salad bars in China.