Remember all the talk about SARS being a catalyst for cleaning up the markets in Guandong province, where animals and people are crowded together in ways that would give a US health inspector a major coronary? Seems the concern has died down, and conditions are back to normal (i.e., filthy and unsafe).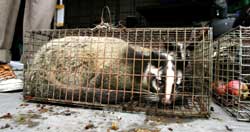 In southern China, it doesn't matter if an animal is an endangered species. As long as it walks, wriggles or jumps, it's good enough for the pot. To prove the point, visit a wild animal market in the thriving city of Guangzhou.

"You want to buy a porcupine?" a worker asked as he looked up from a half-disemboweled civet cat, which some scientists say is the source of the deadly SARS virus that wreaked havoc around the world last year, killing more than 800 people.

Squatting just next to him, a few workers scrub the white carcass of a freshly plucked porcupine, a protected species under the U.N. Convention on International Trade in Endangered Species, or CITES.

Nearby, half a dozen other people sit around mounds of water snakes, peeling their skin off and revealing a pink stretch of flesh. Water snake meat is relatively cheap and popular but conservationists have warned the trade is endangering the reptile, once abundant in the wild.

In this dark, foul-smelling market in Guangzhou, traders have just about anything to offer from birds and waterfowl, domestic dogs and cats, to the exotic flying squirrels and leopard cats.
The funny/sad article makes it clear that the sellers are fully aware that they are selling rare species into extinction, and that they're breaking the law. And it doesn't matter a bit. No thought to the future and the world others will inherit. And we wonder why there's an environemntal crisis in China.