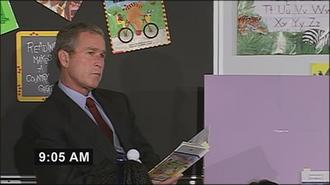 Bush fiddles, reading My Pet Goat, as America burns
No matter how much Mickey Kaus and Andrew Sullivan and Roger Simon and James Taranto loathe Paul Krugman and try at every turn to slander the "former Enron adviser," it's fairly obvious why he commands such a huge audience and always makes it to the most-linked-to lists of the blogosphere: He knows how to pack an incredible punch using simple language and old-fashioned common sense. His write-up of Fahrenheit 9/11 todayis a great example.
Since it opened, "Fahrenheit 9/11" has been a hit in both blue and red America, even at theaters close to military bases. Last Saturday, Dale Earnhardt Jr. took his Nascar crew to see it. The film's appeal to working-class Americans, who are the true victims of George Bush's policies, should give pause to its critics, especially the nervous liberals rushing to disassociate themselves from Michael Moore.

There has been much tut-tutting by pundits who complain that the movie, though it has yet to be caught in any major factual errors, uses association and innuendo to create false impressions. Many of these same pundits consider it bad form to make a big fuss about the Bush administration's use of association and innuendo to link the Iraq war to 9/11. Why hold a self-proclaimed polemicist to a higher standard than you hold the president of the United States?

And for all its flaws, "Fahrenheit 9/11" performs an essential service. It would be a better movie if it didn't promote a few unproven conspiracy theories, but those theories aren't the reason why millions of people who aren't die-hard Bush-haters are flocking to see it. These people see the film to learn true stories they should have heard elsewhere, but didn't. Mr. Moore may not be considered respectable, but his film is a hit because the respectable media haven't been doing their job.
Krugman hits the nail on the head. The overwhelming quetion that consumes the viewer after seeing F9/11 is, "Why didn't the media tell us this? How come I am seeing this footage for the very first time?" Forget the conspiracy theories, which I think are a net negative. What blew me away is the footage of our leaders, and of our political system at work, that I never saw before.
There is an epic myth that Bush showed his great resolve and determination and leadership on America's blackest day. It's the very foundation of his re-election campaign. Why did we need to wait nearly three years before we saw what he really did in the face of our greatest crisis? Why didn't the media show us how for seven looooooong minutes he sat there like a child, even after hearing the words "The nation is under attack," until he was finally forced out by his aides?
And then there's Iraq. We all remember the slick presentation on TV, the $250,000 stage they erected for the press conferences, the video-game-like displays of our high-tech weaponry zapping the enemy, the pin-point accuracy of it all, almost as though it were a "sanitary" war.
Why didn't we ever see the other side, the side Moore shows us? Moore didn't make this footage up — where has it been? For these things alone the movie has to be seen. There's the usual Michael Moore crap and the boyish antics; they're his signature. But, as Krugman says, he has done us all a service in assembling this montage, disjointed, imperfect and opinionated as it may be.
Krugman closes:
Viewers may come away from Mr. Moore's movie believing some things that probably aren't true. For example, the film talks a lot about Unocal's plans for a pipeline across Afghanistan, which I doubt had much impact on the course of the Afghan war. Someday, when the crisis of American democracy is over, I'll probably find myself berating Mr. Moore, who supported Ralph Nader in 2000, for his simplistic antiglobalization views.

But not now. "Fahrenheit 9/11" is a tendentious, flawed movie, but it tells essential truths about leaders who exploited a national tragedy for political gain, and the ordinary Americans who paid the price.
And if you see the film, it'll be hard for you to disagree with that.
Update: I just wanted to get this relevant quote from Mathew Yglesias on the record. Krugman and others standing up for Fahrenheit 9/11 are taking a heavy pounding from the right, which clearly misunderestimated the impact this film would have. These pithy bullets provide a good antidote to the rampant, near-hysterical Moore bashing.
* It is very strange that the media is more concerned with Michael Moore's invalid argumentative techniques than with the extremely similar techniques employed by the president of the United States.

* It is very strange that the media is more concerned with the fact that Michael Moore is a polemicist rather than a journalist presenting a balanced view of events than with the fact that the Fox News network and a small army of conservative radio hosts are doing the same thing.

* It is a very strange thing indeed that the media does not provide outlets for stridently liberal commentary in lieu of the fact that Fahrenheit 9-11 clearly demonstrates that there is a large audience for such things.

* What liberal media?

That is all. It's also noteworthy that while Moore has done us all a great service by bringing to light the footage of the president not reacting to the second WTC attack, he fails to make what I think is the most important point here: The President's own aides have such a low opinion of Bush's leadership capabilities that they didn't think it was immediately necessary — or, perhaps, desirable — for him to take charge of the situation right away. [Emphasis added.]
I look at Yglesias' first bullet, and it strikes me that nothing is more one-sided and riddled with lies and innuendo than a Bush campaign commercial. And yet, despite the ubiquity of these fantasy-advertisements, I don't hear the Roger Simons of this world, or those who live to hump his leg, crying out against them. But Moore comes along and they are downright apoplectic. How odd.