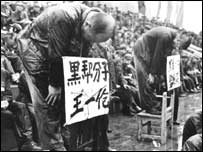 Finally, after reading and posting about the book Red-color News Soldier by Li Zhengsheng for nearly a year, I have my very own copy. And it's exquisite.
The photojournalist Li was charged with taking pictures throughout the Cultural Revolution, and in his black and white images he somehow managed to capture the essence of Mao's insanity in all of its brute horror.
Li's photos, kept hidden for 40 years, seem to put you right there, whether it's a struggle session, a public execution, a beaming crowd greeting the Great Helmsman, or an open-air denunciation. And while I've just started to read the text, it looks like he is a sharp observer and a good storyteller.
There are certain historical phenomena that I constantly wonder at, like the inanities of the first world war, the rise of Hitler and Stalin, Vietnam, the Holocaust, the death of JFK and what it meant, and the difference in American life since 9/11. But the Cultural Revoution may take the prize for sheer inexplicableness on all levels. Meaning, there's no way to rationally comprehend what was in the minds of the leaders and the followers. You can study it and talk to people who lived through it, but there doesn't seem to ever come that moment when you can say, "Oh yes, now I get it."
I can tell from what I've seen already that Red-color News Soldier will help, at least in terms of making me a more intimate witness to the tragedy. But nothing, I suspect, will ever really give me an understanding of how and why it could have been allowed to happen.
I'll report back on the book as I make my way through it. To the friend who sent it to me, Thank you. It's wonderful.
Earlier posts on Red-color News Soldier can be found here and here.