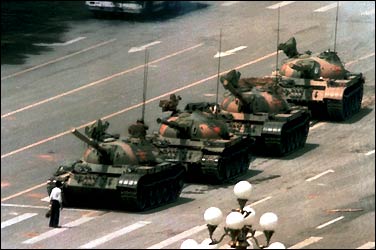 I've written about the "Tiananamen tank man" before, but I just came upon this article that details how the famous picture came to be taken. It's an amazing story in itself and one I had never heard before.
I also like the article's close:
A decade and a half later, Widener's photograph retains all of its potency. "It's an urgently important message about what you can do if you have the guts to do it," says Mickey Spiegel, a China specialist at Human Rights Watch in New York City, who has hung the photograph in every office she has occupied since 1989.

Richard Baum, director of the Center for Chinese Studies at the University of California at Los Angeles, says there's "an emotional legacy to that shot. I think that has cost China more in public image than any other single image in modern times."

Widener, now 47 and a staff photographer for the Honolulu Advertiser in Hawaii, has considered going to China to revisit the story. "The picture's part of my life now," says the photographer. "His message was, 'Enough's enough. There's been enough killing. It's got to stop.' "
Other posts about Tiananmen Square:
Tiananmen Square revisited
Tiananmen Square re-revisited
Messages on Tiananmen Square
You can see the famous Tiananmen Tank video here.
You can read Pico Iyer's sublime tribute to Tank Man in Time magazine here.