I report on a dumb story of a rotting whale explosion in Taiwan and it looks like I may get more visitors than on any other single day since SARS. Of course, traffic can be very fickle, and it tends to disappear as quickly as it arrives….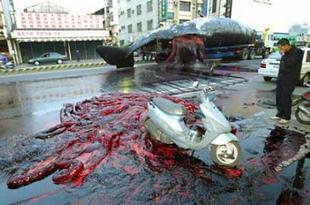 In response to request for a bigger photo of the sickening mess, here you go. Click to enlarge the picture. Yes, that is the entire whale carcass on the tractor trailer in the background. As one commenter asked, why didn't they enshroud the thing in plastic wrap before moving it through the city?
Here's the whale carcass prior to — I think — its decision to disembowel itself on the busy Taiwan street.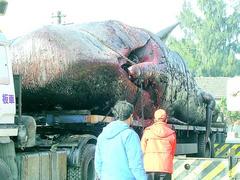 Update: Well it was fun for about 15 hours. Traffic now drifting back to normal….