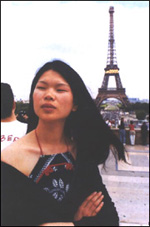 Just imagine: A coal miner's daughter, Lu Yan, the family's "ugly duckling," is walking down a street in Beijing when she's spotted by a model agency talent scout. Within weeks, she is strutting across the catwalks of Paris, China's most in-demand supermodel, perhaps poised to change the very nature of the country's modelling industry.
This is an amazing article that looks at how modelling has become a mega-industry in China, and how Lu Yan is redefining it.
I took one look at her, and I knew she could be a world-class supermodel," said Li Dongtian, one of China's first celebrity hairstylists, who runs a chain of studios and a makeup school. "I was so excited. It was 1999, the turn of the century. The media was asking me who should be the new beauty of the next millennium. I would point without a doubt at Lu Yan."

Lu was stunned. "He was the first Chinese person to ever tell me I was pretty," she recalled.

According to Li and fashion photographer Feng Hai, who was the first to splash her image across Chinese magazines, Lu's look and personality make an ideal combination for representing the 21st century Chinese woman. "Before, Chinese people were only interested in big eyes and feminine sweetness. They didn't know anything about the cool factor and personality," Li said. "So many Chinese girls are beautiful, but you see her and forget her. With Lu Yan, she is so striking, you take one look at her, and you never forget her."
She is apparently setting a new standard for beauty around the world, though in China she remains quite controversial.
"By Chinese standards, she is definitely not pretty," said Gao Xiaofei, 20, a modeling student at the Beijing Fashion Institute. "Just look at our class — almost everyone has big eyes. But I like her a lot. The more I look at her, the more I think she's beautiful."