A typically upbeat article in Xinhua tells us that Mao, the mass murderer who more than any other force helped initiate the brain death of China during his reign, is still revered by China's university students, who continue to treasure his teachings:
Chinese university students are caught up in the trappings of modern life – discussing the Hong Kong movie Infernal Affairs, idolizing Taiwan pop band F4 and flaunting their cellphones – but they still "swear by Chairman Mao."

In fact, the influences of the late Chinese leader, Mao Zedong, who was born on December 26, 1893, on modern youth are not limited to the language of discourse.

Cheng Haowen, a student of astronomy at Nanjing University in eastern Jiangsu Province, said Mao's realistic approach, characterized by testing and improving theories in the course of practice, distinguished him from many Chinese figureheads, who were satisfied with being sage and detached from social reality to show their superiority.
You have to wonder whether the reporter was actually keeping a straight face as he wrote that. Realistic approach? Testing and improving theories? Like, the Cultural Revolution was a tested improvement over the Great Leap Forward? (If Conrad were around he'd reply with something like, "Jesus H. Christ on a rubber pogo stick!")
A socialist whose inspirational sources can be traced back to Chinese classics such as the works of Sun Zi, an eminent ancient military strategist, Mao left a spiritual legacy of pragmatism, depending on the masses of people and solving problems without resorting to foreign forces, which have an impact on the attitudes of a new generation of university students, said Cheng.
What can one say? I've heard Mao accused of many things, but pragmatism isn't one of them. And "depending on the masses"? Mao screwed the masses monumentally, and more than a quarter of a century after his death they are still reeling from his certifiably insane policies that devastated the environment and robbed a generation of its critical faculties.
Although Mao erroneously initiated the "cultural revolution" (1966-76) in his later years, fostering cult-like admiration for himself, he and his spiritual legacy still deserve to be studied objectively, said Cheng, who was born in 1985.
"Erroneously initiated." How is that for bland language? It makes it sound like a frigging accounting error. And even though he left China a basket case, we still love his spiritual legacy and want to study it objectively quack quack quack.
I suppose I should resign myself to the fact that Mao worship isn't going away anytime soon. But I want to believe that most students today don't really believe there's anything worth studying in Mao's "spiritual legacy." Nearly all my friends in China told me that Mao is someone they simply ignore, and that all the government's BS about his greatness is recognized as a pointless show. I sure hope they're right.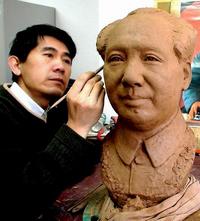 A university student works lovingly on his statue of The Great Helmsman
UPDATE If you think this Xinhua article is nauseating in its swooning over Butcher Mao, try this.