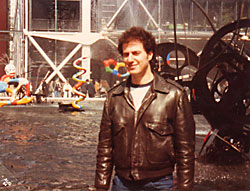 Roy Kessler before he fell ill
October 24, 2001 marked the ten-year anniversary of the death of my best friend from college, Roy Kessler. This is the tribute I wrote in his memory last year:
My Best Friend
Nearly ten years ago my best friend Roy died at the age of 31. He was not only my friend at the time, he was also my employer. He had started a little software company in Arizona called PC Globe back in 1989. It was one of the first companies to make geography software, and its maps looked dazzling back then. Today, they look kind of silly, compared to the dramatic advances in software over the past decade. Roy started the company all by himself, and when I joined him to do the marketing, he was staying up until midnight shrink-wrapping the boxes himself with a hair dryer. Within six months, the company would make him a multi-millionaire.
Roy was a true entrepreneur. Ideas for new ventures were always popping into his head. I had met Roy back in 1976, when we were both students in Germany. He was a Princeton student at the time, getting extra credits for studying German in Munich. We became friends, and I was one of the few people he allowed to really get to know him. He was something of a genius, able to learn languages in just a few months – even Russian. He was 6 feet 4 inches tall, and definitely stood out in the crowd. Although he was slim, he was also a dedicated body builder and worked out at least once a day. His energy was limitless, and he was always in perfect health..
Something happened to Roy in the summer of 1991. He began to get tired, and he wasn't himself. In July he had his wisdom teeth removed, and that week a big lump popped up on his neck. Roy told me he was frightened. "My doctor says that it's either cancer, AIDS, or nothing at all." Obviously, we were hoping it was the latter. But I was worried. Roy had a second home in Paris, and he was flying out there that same week. The night before, he came to my house for dinner, and afterward he collapsed on my couch. That was not like Roy. It took him about half an hour to get up, and he made some joke about his being tired lately, went to his car and drove home. It was the last time I would ever see Roy walk.
The next week at the office I got a frantic phone call from Roy's lover in Paris, Francois, a flight attendant for Air France. Roy is very sick. He has cancer. He and I are flying back to Phoenix tomorrow, and you need to make plans for him to go directly to the hospital.
I was shocked, but I was not surprised. I tried to absorb it all: My best friend for 15 years had a life-threatening disease. A lot of terrible things happened in the days ahead. First, I learned that Roy had been diagnosed with lymphoma, and then I found out that the lymphoma had been caused by AIDS. There was no cocktail of drugs like we have today, no magical mixture of pills that can keep AIDS in check. And I soon learned that AIDS-related lymphoma was incurable and always resulted in death. Lets just say it was a very hard time for me, and I had to call Roys' relatives and deal with many things that still haunt me today.
We celebrated his last birthday eight weeks before he died, on August 26. I wrote him a birthday letter, and it was one of the hardest things I ever did. I knew Roy would only be alive a few more weeks, and yet I also wanted to remind him that where there is life, there is hope. This is the letter (which ten years later seems embarrassingly sentimental) I wrote to Roy, my best friend, for his final birthday:
August 26, 1991
Dear Roy,
I am really sorry that amid all the haste and confusion and passion of the last few weeks I have failed to write you a note or letter. Please forgive me. (As a favor to you, I will try to keep this correspondence slightly less voluminous than usual, knowing how I can write on and on at lengths that are utterly horrifying to contemplate. That's not fair to anyone, let alone a friend in the hospital.)
To say that life at PC Globe, Inc. is not the same without you doesn't say nearly enough. Your presence is very sorely missed–your humour, your brilliance, your zaniness, your quirky individuality. The wish currently expressed here by everyone is unanimous — that you get your strength back and return, even if at first it can only be for a couple of days a week. That's my wish, too.
Several times during the past few weeks you've referred to me as "my best friend," which set me thinking, what is a "best friend"? (Pseudo-philosophers like me love to keep themselves absorbed with stuff like that.) I answered the question, at least to my own satisfaction: Being someone's best friend means you don't hesitate to do absolutely everything you possibly can for him. Being someone's best friend means you're responsible for that person. When your best friend is in trouble, nothing else matters, and your attention to him must be complete, flawless and immaculate. Being someone's best friend is having had strong disagreements with him, even to the point where you want to throw something at him, and knowing that the disagreement means nothing. There is only the friendship; everything else is meaningless interference. I really feel that being your best friend is a high honour. (I hope my writing isn't taking on the consistency of over-thickened corn syrup. I know I'm quite capable of that. I'll try to be brief.)
Anyway, I wanted to wish you a happy birthday, and to remind you once more that you are missed by a simply amazing number of people.
Roy, I know what you're experiencing is hard, and I wish I could put into words how much I admire your strength and your will. I've said it before, and I know lots of other people have also said it, but I want you to know I'll always be there for you, always. Like E.T. says at the end of the movie, "I'll be right here."
I have always found the closing lines of Tennyson's great poem, Ulysses, to be inspiring. I've thought about these words a lot recently:
And though
We are not now that strength which in old days
Moved earth and heaven, that which we are, we are;
One equal temper of heroic hearts,
Made weak by time and fate, but strong in will,
To strive, to seek, to find, and not to yield.
Thank you so much for not yielding, Roy, and for being such a great friend for so many years. And remember, you are beloved by many, many people; not just beloved–adored. Hang in there, Roy, and don't forget that I'm with you.
Love,
Your best friend, Richard
On October 24, 1991, as I sat by his bed, Roy died, a bald, shrivelled sliver of the great man he had been only months before. Things weren't always perfect between us. When a relationship changes from a friendship to a business partnership, it can be difficult to keep the friendship intact. Still, we did pretty well, and we always knew that nothing could erase the bond formed by 15 years of friendship. Roy's passing was one of the saddest times of my life, and I think about him every day