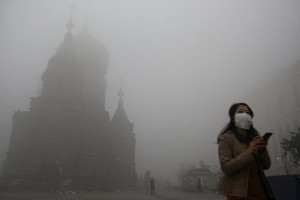 This photo taken yesterday in Harbin is all over the Internet, but I couldn't let it go without posting it. As the article explains, the air darkened and filled with smoke after the city turned on its coal-powered central heating system.
"School was canceled, traffic was nearly paralyzed and the airport was shut down in the northeast Chinese city of Harbin on Monday as off-the-charts pollution dropped visibility to less than 10 meters in parts of the provincial capital."
Nothing poses a more serious problem to China than its poisoned air and water. It could choke off the country, driving away tourism and casting a dark shadow over its "economic miracle." A shame. I have been dying recently to get back, then I hear stories from hell from my friends who are still there, and I see pictures like these, and I wonder if I really want to go. A "lifer" I know who was going to live in China until his dying day is now looking for a home in the West for fear his children will be harmed by Beijing's toxic air.
So many Chinese people have told me that the government, for all its faults, could achieve anything it wanted to once it had its sights on the target. But I don't think they can solve this problem. There are two options: choke on pollution, or drastically slow down growth. China's in a box, and really has no choice: the growth must go on if the CCP is to hold onto power. Breathable air takes a back seat. I know, they're investing heavily in green energy, but that will take years to implement. China runs on coal, and will do so for decades to come. A tragedy.