A guest post from Bill Stimson…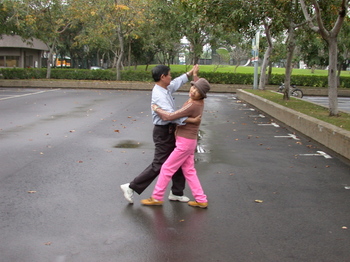 The Rich Life
by William R. Stimson
While photographing an early morning tai chi group in an empty parking lot near my home here Taiwan, I noticed a man and a woman dancing their hearts out in the adjoining parking lot, also empty. Ballroom dance music issued from a portable player sitting on the pavement. I snapped this photo and then walked on down through a series of parks taking pictures of a succession of tai chi groups. When the camera was full and wouldn't take any more pictures, I headed back home. As I passed by it again, I saw that the parking lot with the early morning tai chi group was now empty but the adjoining one with the dancers was filled with couples spinning gracefully around, arm in arm, as if they were at a grand ball.
If I could distill the essence of Taiwanese culture, at least as I see it — that is to say, what makes it so special for me — it's this quality it has, that nothing is wasted. Often I've wondered why Taiwanese eat so many different kinds of things — even rattlesnakes, sea cucumbers, and tiny pointy ocean snails are relished here. In time, I came to understand that a people like these, who have lived through adversity, would over time have learned how to utilize every little thing. Nothing is wasted here.
The week before I left New York City to move to Taiwan, the recycling program was suspended in Manhattan, Queens, the Bronx and Staten Island. The reason the city gave: the program was too costly to operate. That would never happen in Taiwan. The Taiwanese make big money from recycling and are committed to it. They even recycle waste food, not just from restaurants, but from ordinary homes. Some of it is made into fertilizer, some of it is used as feed for pigs. So with the Taiwanese, it's quite natural that even an empty parking lot, early in the morning, that's not being used, finds a function and becomes a valuable commodity.
This ballroom dancing group can be free because it doesn't have to rent a hall. The parking lot is empty early every morning. No expensive air conditioning system is needed. Outdoors early in the morning the air is fresh and sweet. Ordinary people can perfect their dance steps, get exercise, polish their social skills, and enjoy the company of friends and neighbors. Down a ways in one direction is a different parking lot where another group plays badminton. Over the opposite way is one where still another group goes through an aerobic exercise routine to the accompaniment of disco music. The streets and parks of Taiwan are alive early every morning with all kinds of life. It is a wonderful thing to see these enterprising people snatching a few moments from their busy schedules and coming out onto the streets to do what they love and to share that love with others, without any money exchanging hands.
What impresses me most about Taiwan is the way the simpler people here have of making so much out of so little. Every time I see it, I am inspired to do the same. For instance, I have started saving the coffee grounds and using them to fertilize the ferns. Now I'm growing the biggest ferns I've ever seen. And for the moment or two it takes for the coffee to brew, instead of standing around waiting, I have gotten into the habit of doing a simple stretching exercise. After only a few months of this I find that for the first time in my life I have become limber enough to touch my toes at will. These small victories make me know how rich I am. It's not about owning things or having money, but the joy of discovering how much profit there is in more fully using what I already have.
* * *
William R. Stimson is an American writer who lives in Taiwan. More of his writing can be found at www.billstimson.com.