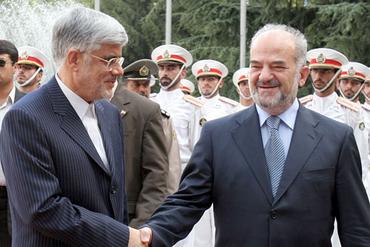 A marriage made in Mecca? Iraqi Prime Minister Ibrahim al-Jaafari and Iranian VP Mohammad Reza Aref proclaim their friendship in Tehran.
If you are thinking the scenario of Iraq becoming an Iranian sister state is far-fetched, please leave this blog now and read this detail-rich article that walks you through the evolution of this blossoming friendship and its implications. (Requires that you watch a 20-second advertisement.) I'd like to paste the whole thing, but for economy's sake I'll snip a few of the best parts.
Iraq's new government has been trumpeted by the Bush administration as a close friend and a model for democracy in the region. In contrast, Bush calls Iran part of an axis of evil and dismisses its elections and government as illegitimate. So the Bush administration cannot have been filled with joy when Iraqi Prime Minister Ibrahim al-Jaafari and eight high-powered cabinet ministers paid an extremely friendly visit to Tehran this week.

The two governments went into a tizzy of wheeling and dealing of a sort not seen since Texas oil millionaires found out about Saudi Arabia. Oil pipelines, port access, pilgrimage, trade, security, military assistance, were all on the table in Tehran. All the sorts of contracts and deals that U.S. Vice President Dick Cheney had imagined for Halliburton, and that the Pentagon neoconservatives had hoped for Israel, were heading instead due east.

Jaafari's visit was a blow to the Bush administration's strategic vision, but a sweet triumph for political Shiism. In the dark days of 1982, Tehran was swarming with Iraqi Shiite expatriates who had been forced to flee Saddam Hussein's death decree against them. They had been forced abroad, to a country with which Iraq was then at war. Ayatollah Khomeini, the newly installed theocrat of Iran, pressured the expatriates to form an umbrella organization, the Supreme Council for Islamic Revolution in Iraq (SCIRI), which he hoped would eventually take over Iraq. Among its members were Jaafari and Abdul Aziz al-Hakim. On Jan. 30, 2005, Khomeini's dream finally came true, courtesy of the Bush administration, when the Supreme Council and the Dawa Party won the Iraqi elections.
….
It was not only history that brought Jaafari to the foothills of the Alborz mountains. The Iraqi prime minister was attempting to break out of the box into which his government has been stuffed by the Sunni Arab guerrilla movement. Jaafari's government does not control the center-north or west of the country and cannot pump much petroleum from Kirkuk because of oil sabotage. Trucking to Jordan is often difficult. The Jaafari government depends heavily on the Rumaila oil field in the south, but lacks refining capability. Iraq lacks a deep water port on the Gulf and needs to replace inland "ports" like Amman because of poor security. An initiative toward the east could resolve many of these problems, strengthening the Shiites against the Sunni guerrillas economically and militarily and so saving the new government.

Iraq's Eastern Policy does not come without at least symbolic costs. On Saturday, Jaafari made a ceremonial visit to the tomb of Ayatollah Khomeini, on which he laid a wreath. In a meeting with Supreme Jurisprudent Ali Khamenei on Monday, according to the Tehran Times, Jaafari "called the late Imam Khomeini the key to the victory of the Islamic Revolution, adding, 'We hope to eliminate the dark pages Saddam caused in Iran-Iraq ties and open a new chapter in brotherly ties between the two nations.'" The American right just about had a heart attack at the possibility (later shown false) that newly elected Iranian President Mahmoud Ahmadinejad had been among the militants who took U.S. diplomats hostage in 1979. But the hostage takers had been blessed by Khomeini himself, to whom Jaafari was paying compliments.
….
For his polite forbearance as his Iranian hosts boasted of the superiority of their Islamic government and grumbled about all those trouble-making American troops in the Iraqi countryside, Jaafari was richly rewarded. Iran offered to pay for three pipelines that would stretch across the southern border of the two countries. Iraq will ship 150,000 barrels a day of light crude to Iran to be refined, and Iran will ship back processed petroleum, kerosene and gasoline. The plan could be operational within a year, according to Petroleum Minister Ibrahim Bahr al-Ulum, whose father is a prominent Shiite cleric.

In addition, Iran will supply electricity. Iran will sell Iraq 200,000 tons of wheat. Iran is offering Iraq use of its ports to transship goods to Iraq. Iran is offering a billion dollars in foreign aid. Iran will step up cooperation in policing the borders of the two countries. Supreme Jurisprudent Khamenei has called for the preservation of the territorial integrity of Iraq.
It only gets better.
Nothing else seems to upset "supporters" of the war than bringing up this nightmare, and not one has addressed it yet except to argue that it doesn't exist, period, end of discussion. In fact, it is now the only solution we have if we're to get out. The insurgents cannot be defeated, but they must not be allowed to win. And the only way to ensure that is to prepare Shiite militias and the Iraq army to fight them once we are gone so they can continue the battle without us (proabably for years to come, like the IRA). And this wll also require extensive military help from fellow Shiite state Iran.
Just today Maureen Dowd tells us how Shiite theocrats in Iraq are quickly reducing womens'freedoms. And the party's just getting started. Life under Saddam was no picnic, but a theocratic dictatorship hostile to women, Jews, gays, America and Israel was not what we were told would arise from his ashes at the cost of all those US lives and dollars. Is this what we gave those lives up for?
Have no illusions. This is where we are heading, even if the new constitution doesn't say so (like China's, it's just a piece of paper unless it's enforced). Even if there's a coalition government in place when we leave. It's coming because this is what they want, an Islamic state with Israel prominently featured as its enemy and Allah as its god and savior. And since we promised them democracy and because we never thought it through, we're going to be stuck with it, yet another source of grief for the Middle East and the precise opposite of the bill of goods we were all sold.