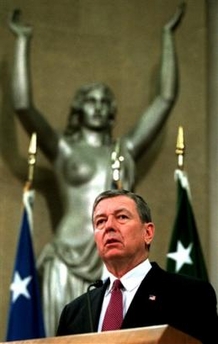 The Justice Goddess' boobs, I mean. Gonzales may be just as much an asshole as his predecessor John Ashcroft, but let's give him credit where it's due: the infamous curtain the sex-obsessed Ashtray insisted be used to cover up the "obscene" statue of the goddess of justice has been unceremoniously removed.
Remember, Ashcroft shortly before 911 wanted to cut money spent on terrorism prevention and increase spending on the real threat to our lives, pornography. A lot of us forget what the Bush administration's priorities were pre-911, and that they ignored all the warnings and chose to focus instead on the stuff that really matters.
Via slimeball Matt Drudge.