Reader Shanghai Slim has done his homework and uncovered some interesting background information on the controversial sign (apparently a fake) that we've been arguing about lately.
Here are the actual photos Shanghai Slim scanned (sources follow).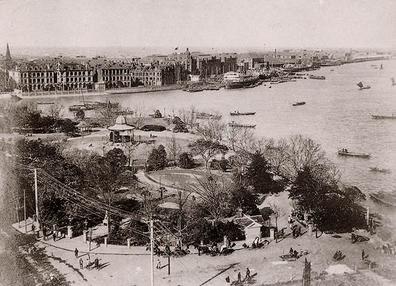 An early, undated photo of Huangpu park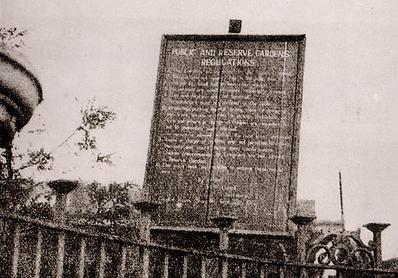 The sign, translated above

A higher-quality close up of the sign
Compare that with the fake photo that started it all: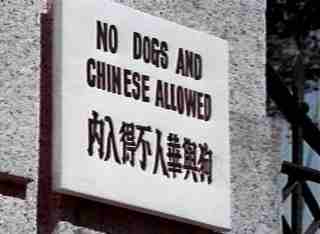 Shanghai Slim explains:
The photo is from a Chinese book, the translated title is "The Bund – History and Vicissitudes", edited by Lou Rongmin, Shanghai Pictorial Publishing House, circa 1990.

The sign reads as follows:

PUBLIC AND RESERVE GARDENS.

REGULATIONS.

1. The gardens are reserved for the foreign community.

2. The Gardens are open daily to the public from 6 a.m. and will be closed half an hour after midnight.

3. No persons are admitted unless respectably dressed.

4. Dogs and bicycles are not admitted.

5. Perambulators must be confined to the paths.

6. Birdnesting, plucking flowers, climbing trees or damaging the trees, shrubs or grass is strictly prohibited; visitors and others in charge of children are requested to aid in preventing such mischief.

7. No person is allowed within the band enclosure.

8. Amahs in charge of children are not permitted to occupy the seats and chairs during band performances.

9. Children unaccompanied by foreigners are not allowed in Reserve Garden.

10. The police have instructions to enforce these regulations.

By Order,
N.O. Liddell,
Secretray, Council Room, Shanghai, Sept. 13th 1917.