I just saw Dick Cheney on the news, fawning over the gun that the NRA handed him today. He looked totally intoxicated, gaping at the rifle with an almost leering grin. It immediately brought to mind another picture (and it sure took me a long time to find it on the Web). Compare.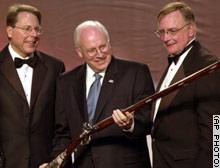 And here's Cheney's nemesis: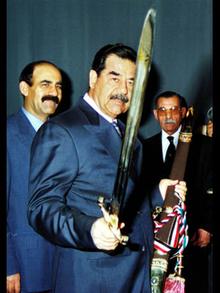 No, I am not saying Cheney is comparable to Saddam. But seeing Cheney with the gun and the two minions on either side brought back a vivid memory of the Saddam photo. Obviously Cheney is no Saddam (which doesn't mean I like him), but I found the similarities of the pictures to be eerily striking.
"FROM MY COLD, DEAD HANDS!"