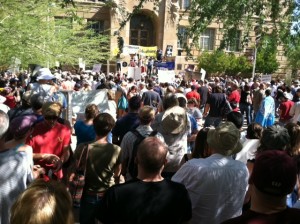 Best picture I could take at Occupy Phoenix, using my phone; I know, it's kind of blurry.
I just came from the demonstrations here in downtown Phoenix and was surprised, in a good way, at what I saw. Thousands of polite, civil, friendly protestors had gathered, and I would say that maybe half of them were white collar people in their 40s, 50s and even 60. Lots of youth, but lots of white hair, too. There was no name-calling, no littering, no shoving, not the slightest hint of violence. I bring this up because the new insidious meme from the right is that those participating in the demonstrations constitute a "mob." Of course, they considered the Tea Party demonstrations a gathering of patriots. The Occupy crowds, in their eyes, are dirty hippies and anarchists. Which, of course, is total nonsense.
There was no leader, just a string of speakers. The message was simple: there is a huge injustice in America, and the criminal bankers are rewarded for their sins at the expense of the working and middle classes. The goals are simple, too: tax reform, with more taxes on the rich and relief for the less fortunate; greater stimulus to create jobs; and transferring power from Wall Street and corporations to the people the government is supposed to represent. (I know, that's easier said than done.)
There were the expected idiots, but very few. I'm talking about Truthers with their signs about 911 being an inside job, and the Ron Paul kooks with their monolithic call to "end the Fed." They were few and far between, but it's always signs like theirs that the right-wing seizes on to show how deranged liberals are. I kind of wished they'd disappear. Free speech has its pluses and minuses.
The police were everywhere, quietly watching. I even chatted with one about a deranged demonstrator who was reading from the bible at the top of his lungs trying to drown the speakers out. The cop said he'd love to do something, but everyone's allowed their say. From the way he said it, I'm betting he was sympathetic to the demonstrators.
According to the latest poll I saw, 52 percent of Americans now support the Occupy movement, and 27 percent support the Tea Party. Finally, a movement is bringing together groups that have often been at odds: white collars and working-class workers, young people and old, social rebels wearing masks and clearly challenging the status quo, and the status quo itself — ordinary Americans who brought their entire families with them.
The Phoenix event may have been a bit too polite. It needs to be a little more disruptive and in-your-face. That's a fine line to balance, remaining civil while generating outrage. But it has to shake up the system, like they're doing in New York. Meanwhile, I'm doing everything I can to support this movement and urge you all to do the same. We've never seen anything like it in America in our lifetimes, and it is so long overdue.