This was from several days ago, not sure how I missed it. Still worth a mention.
I was amazed when I saw this because if it's true there are some awfully dumb Chinese officials and high school teachers (!) out there. If they want to participate in an orgy, don't they know better than to take pictures of themselves? Unsurprisingly, this went super-viral on Weibo after an unknown party uploaded the photos.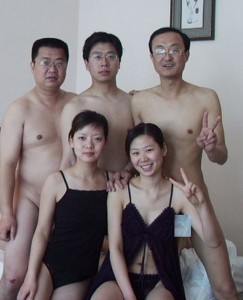 Prominent politicians in China have been accused of participating in a sex orgy, after dozens of photos appeared on a microblogging site earlier this month featuring three naked men and two naked women in a hotel room.

The pictures, which were featured on Sina Weibo appear to show the Party secretary of Lujiang county in Anhui Province, Wang Minsheng, his deputy, Jiang Dabin, and the party's youth leader at Hefei University, Wang Yu. Over 100 photos were uploaded by an unknown user.

The high-ranking Chinese officials are shown engaging in a hotel "sex party," according to the (UK) Telegraph.
There's a lesson here somewhere. In certain situations, all cameras need to be checked at the door.
Update: The New Yorker chimes in.