Let me start by condemning this incredibly offensive photo that was much discussed on the news tonight.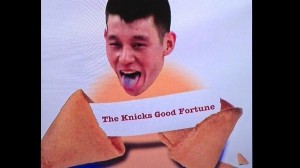 This photo, put out by the network that broadcasts the Knicks' games, makes a grotesque issue of Lin's race and I am delighted to see that it was quickly condemned by even right-leaning media. This was outrageous.
Next, let me say that I never thought I'd ever put up a post about basketball. It will be brief.
Even I, who have never had the slightest interest in team sports of any kind, have been impressed by the incredibly rapid and dramatic ascension of Jeremy Lin, unheard of a few days ago and now the most-heard name on television, and everywhere else. It's not surprising. On top of his pyrotechnics on the court he has other qualities that ensure he will be a media darling, especially his deep Christian faith and the fact that he is Harvard-educated yet modest, soft-spoken and irresistibly charismatic.
I've been reading that although he's already a superhero on China's social media, the Chinese media's response to Lin has been muted. He is, after all, an American, a devout Christian, and his success raises questions as to why there is no Lin equivalent in China, i.e., a brilliant young man educated in the country's finest university who went on to turn himself into a sports sensation.
The best piece I've seen on this topic is here (h/t to James Fallows). The reporter, Adam Minter, quotes a Chinese microblogger:
If Jeremy Lin lived on the mainland, he would either be a semi-literate CBA [Chinese Basketball Association, China's state-run professional league] player or an ordinary undergraduate who likes basketball in his spare time. We admire him not because he is an ethnic Chinese, but because he has proved for a fact that the main reason that Chinese don't play basketball well is because of the system, and not their physique!
I've written before about China's sports factories that churn out athletes who have no skills outside of their sport, and how those who don't make it usually end up with limited skills and poor job prospects. So I kept wondering, could China produce a Jeremy Lin? Unfortunately, I don't think so. Not yet.
I was listening to interviews on NPR this morning with fans in China who insist Lin is Chinese due to the color of his skin and the fact that his roots go back to Zhejiang (and Taiwan). Their hero worship of Lin will continue, as he is all they have. As Minter says in his closing line, "Until there is a Jeremy Lin born and made in China, Jeremy Lin the Chinese-American will almost certainly remain a favorite of native-born Chinese basketball fans."