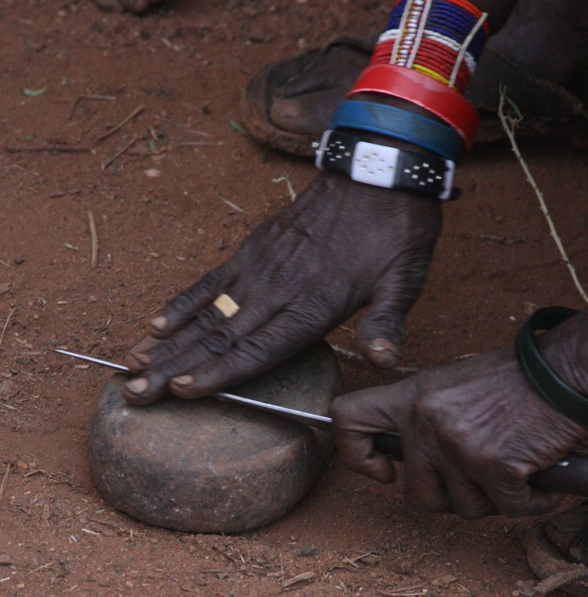 For whatever reasons, the topic of female genital mutilation always brings out an odd type of commenter, always male (of course), usually someone who insists on seeing it as the equivalent of male circumcision (which is like comparing what Van Gogh did to getting one's ear pierced) and/or who vigorously defends multiculturalism, a warped argument because you cannot defend torture and trauma. And even if the procedure is carried out antiseptically and with plenty of pain killers, the procedure itself constitutes a trauma by its very nature. Of course, the mutilation is usually not performed antiseptically.
We went through all of this in the at-times painful thread below. The post was noticed by an organization that alerted me to their new film on this topic, and I'm posting this let you know where you see the film. If you want to argue further about this topic, first go to this site and download the file. (It's kind of long, so be patient.) Then watch it. It is not hysterical or emotional. It explains the deep roots of the practice and how many girls look forward to it as a right of passage, celebrated by the community. But the filmmakers then make it clear that the procedure leaves every victim traumatized and in pain, and it has life-long consequences. As a girl who refused to be mutilated explains, if the other girls had the slightest understanding of what it actually entails. they would refuse as she did.
Surf through some of the links over there. You'll see that this is not about intolerant Westerners sneering at an honored cultural tradition. Those objecting with the most passion are either victims of the mutilation or girls who have refused to undergo it. The protests are coming from African women, not arm-chair snobs blogging from their air-conditioned living rooms.
The issue raises all sorts of questions of freedom – the freedom to choose what is done to your body, the freedom to observe your thousand-year culture, the freedom to be left free of meddling from outsiders. And I don't claim to have answers to all of these issues. What I do know is that if men in their teens had to undergo similar mutilation, they would be a lot less enthusiastic about the "cultural" argument. And if more of the girls knew exactly what was being done to them and all the grief it would cause them in the future, they too would be a bit less delighted to stand there while the knife is sharpened and… Well, watch the film.
There is a reason why all these groups have formed and why so many African women are speaking out. Maybe those who want it done should be permitted to preserve their tradition and choose their own path. But since it is mainly done in a state of ignorance, I would argue that we should do everything possible to at least educate them as to the reality of their choice. And again, that's not the arrogant belief of a snobby white guy looking down at disgust at something in another culture he finds disconcerting. It's what thousands of African women and global health workers are fighting to do. It's about saving lives, about protecting women from unbearable pain and suffering.
As we are seeing in Iraq, there is a deep-seeded cultural attitude toward gays that justifies murdering them (my US tax dollars at work). "It's their culture." Same with honor killings. Does the mantra, "It's our culture" excuse all behavior no matter how sadistic and unjust? Tough call. What is not a tough call is what Western nations should do when their citizens wish to participate in these activities in any way, whether it's on their soil or during weekend trips home. The answer must be "No, that goes against the social contract you made with this country when you sought its citizenship. And some things are non-negotiable." It's not like getting annoyed at someone for spitting watermelon seeds on the restaurant table. It's about cruelty to and subjugation of women.
Thanks for your patience. This has been a subject that has bothered me for years and I can't be silent. Now, I'll try to get back to China and the US.