I know I am (very) late with this, now that the eclipse is more than a day old. But it was breathtaking to stand under the overcast sky yesterday, still quite bright at 9.30am, and watch the sky get progressively darker in a matter of seconds, turning nearly black after about five minutes. It was especially exciting because heavy thundershowers earlier in the morning had made the hundreds of spectators at the hotels gloomy. While they may not have gotten their full money's worth, it was a dramatic and rare event nonetheless. The photos were captured by my friend Ben from the outdoor area of the third-floor lobby of the Sheraton hotel in Suzhou.
First, you can see the view before the eclipse started.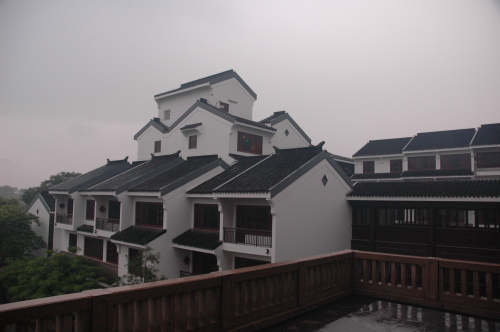 Then it gets darker.
And then you know there's a total eclipse taking place, and not just some dark clouds.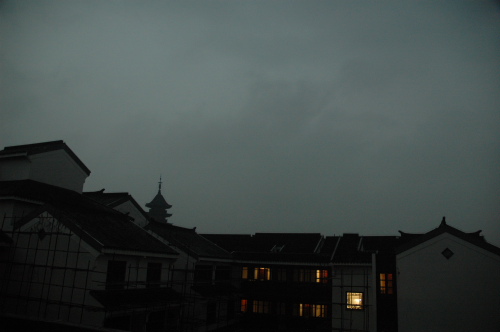 And then after five minutes the sky begins to return to normal.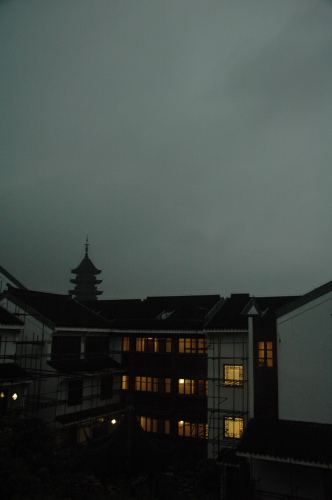 Yes, it would have been a lot more magical if the skies had been clear, but this was nothing to sneeze at.
This trip, my last before moving back to the US, got interrupted by an unexpected email a few days ago when I was in Suzhou. Just like the last time when I wasn't sure what to do next, back in April, another opportunity simply appeared, and it was again due to this blog, if somewhat indirectly. I'll be doing writing and media relations for an NGO devoted to a cause I care a lot about, and it will bring me back to Asia (though perhaps not China) less than two weeks after I return home, at least for a couple of weeks. Fate plays strange tricks, and you never know what's next. What was that Forrest Gump metaphor again?