I am lifting the photo and the quote from this site. Because Powell addressed an issue of tremendous importance, and he had the bravery to answer that vile question, "Isn't Obama a Muslim"? with the noble words McCain himself should have uttered when confronted with similar allegations.
Here is what Colin Powell said yesterday when he announced his endorsement of Obama.
And it is permitted to be said such things as, "Well, you know that Mr. Obama is a Muslim." Well, the correct answer is, he is not a Muslim, he's a Christian. He's always been a Christian. But the really right answer is, what if he is? Is there something wrong with being a Muslim in this country? The answer's no, that's not America. Is there something wrong with some seven-year-old Muslim-American kid believing that he or she could be president?

…I feel strongly about this particular point because of a picture I saw in a magazine. It was a photo essay about troops who are serving in Iraq and Afghanistan. And one picture at the tail end of this photo essay was of a mother in Arlington Cemetery, and she had her head on the headstone of her son's grave. And as the picture focused in, you could see the writing on the headstone. And it gave his awards–Purple Heart, Bronze Star–showed that he died in Iraq, gave his date of birth, date of death. He was 20 years old. And then, at the very top of the headstone, it didn't have a Christian cross, it didn't have the Star of David, it had crescent and a star of the Islamic faith. And his name was Kareem Rashad Sultan Khan, and he was an American. He was born in New Jersey. He was 14 years old at the time of 9/11, and he waited until he can go serve his country, and he gave his life.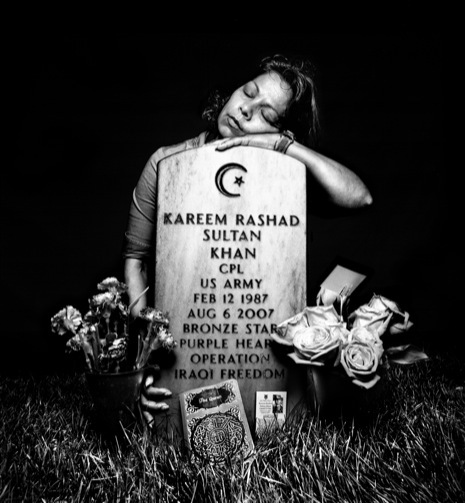 Powell, as I said before, screwed up terribly and can't be entirely forgiven for his role in leading us into a stupid, pointless and horrific war. But he has proven what I always believed about him, namely that he is a decent person who never belonged in the toxic environment known as the Bush Administration. I feel a little prouder to be an American when I read the words above, as I also feel ashamed of those among us who have fomented racism and hatred, and cynically used it as a political tool. (I'm talking to you and you, among others.)
As the reporter said, turning on Powell now would be the costiest error for the GOP, keeping his endorsement of Obama on the front pages. Let's hope Rush and Michelle and the like keep it up.