Posted by Martyn.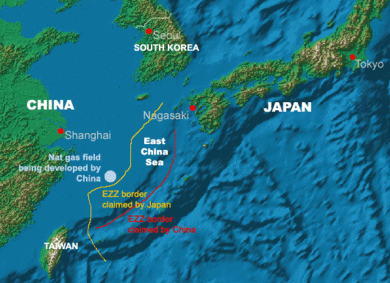 This map clearly shows the areas claimed by Beijing and Tokyo and the location of the Chunxiao field.
In a rare show of military assertiveness, five Chinese PLA Navy vessels took position near the controversial Chunxiao gas field in the East China Sea last Friday morning. The fleet consisted of a "7,940-ton Sovremenny-class guided-missile destroyer, two 1,702-ton Jianghu I-class missile frigates, a 23,000-ton replenishment vessel and a 6,000-ton missile observation support ship". Previously, Chinese PLA Navy vessels have only occasionally sailed into Japanese waters. The last incursion a few months ago ended with a quiet Chinese apology to Japan. Therefore, this current deployment is, by far, the largest display of China's recently acquired blue water navy since military exercises in 1996 in the Taiwan Strait resulted in two US aircraft carriers being sent to the area. This great Howard French article presents an ominous picture.
The warships appeared two days before a general election in Japan, whose results could greatly influence relations between Asia's two great powers, and weeks before China is scheduled to start producing gas in the area, despite strong Japanese protests.

Until Prime Minister Junichiro Koizumi diverted Japanese voters' attention away from Japan's deteriorating relationship with China, the focus for several months had been on the increasing diplomatic, military and economic rivalry with China — much of it taking place in the waters between the countries. Both Japan and China are determined to wield a strong hand in the oil-rich seas and strategic shipping lanes that lie between them.

"It is like the 1930s again, when the central Pacific became a vital concern to both the United States and Japan, whose navy was expanding," said Adm. Lang Ning-li, who until his recent retirement was Taiwan's director of naval intelligence. "That means there could be conflict between China and Japan, which both see these seas as vital and can't share this space."
The territorial spat between China and Japan started in late 2003 when both governments stated their intention develop oil and gas resources in the East China Sea. China and Japan disagree wildly over the location of the maritime border between the two countries. Japan defines it as a line marking the equal distance between the two nations. China claims its sovereignty extends right to the edge of the large continental shelf, encompassing Taiwan and almost extending to Okinawa. The Chunxiao gas field borders the disputed area and Japan suspects that Chinese oil and gas fields would siphon off resources from the Japanese side. Tokyo also worries that the oceanographic data collected by Beijing would give the PLA Navy a strong advantage in any future submarine warfare. According to this Chinese source, Beijing also intends to refuse any further talks on the issue. However, the implications of this Chinese show of strength, potentially at least, extend far beyond the Chunxiao gas field:
Security experts from China, Japan, Taiwan and the United States say that all the elements are in place for a showdown over Taiwan between Beijing and Tokyo. No one is predicting war, but Taiwan poses a permanent and unpredictable potential crisis. The United States has a close alliance with Japan, security commitments with Taiwan and a complex relationship with China that mixes rivalry with extensive economic ties.

For America, whose support of either Japan or China has historically tipped the balance in the region, the implications are enormous. The recent statement by a Chinese general that his country would use nuclear weapons against the United States if the U.S. military intervened in a conflict over Taiwan was a sharp reminder that Taiwan's fate remains one of the region's biggest flash points. Many analysts argue that such confrontation, verbal or otherwise, could lead to a regional arms race culminating in a nuclear Japan.

Japan imports all of its oil, and because much of it passes through the seas surrounding Taiwan, it believes that its survival is dependent on keeping those seas stable. Chinese control of Taiwan could hurt Japan's access to oil, Japan fears.
China usually accepts no compromise on its various territorial claims, most notably over the entire South China Sea. To date, China has flatly refused to work towards any kind of permanent settlement over controversial issues such as sovereignty over the Spratly Islands (or Nansha Islands as they are called in China). The disagreements have simply been postponed and replaced with a series of economic cooperation agreements and promises from all sides to resolve the dispute peacefully. Beijing has also all but banned the subject at ASEAN meetings. However, in the past China was always careful to avoid outright confrontation, especially confrontation involving the PLA Navy. Recent purchases from Russia have substantially increased China's ability to protect its power in the South China Sea. The question is: to what extent is China prepared to use it?