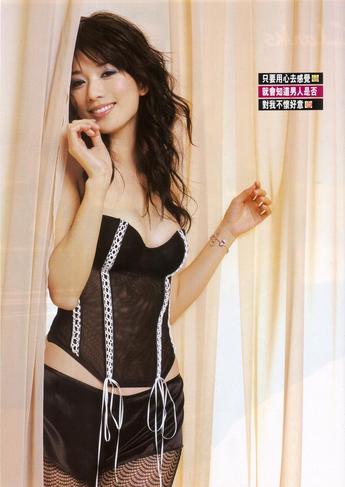 A reader sent me an email with a good suggestion for a post:
One of Taiwan's popular models, Lin Chi-ling was recently doing a commercial in the mainland; the commercial called for her to be riding a horse which she was but then the horse threw her and she ended up with a broken rib or something like that and so she was hospitalized. Later after a few days in the hospital in China, Taiwan sent a heliocopter over and brought her back. My details on the above may be a little fuzzy but more or less cover the event. You would think that would be end of story.

However, what has recently developed; some Mainland Nationalistic nuts found out that Lin's mother and father were supporters of Chen Shui-bian (therefore the implication that they are pro-independence). So the Chinese bloggers have been saying what a bad daughter she is; how bad her parents are etc. to be supporting such a "separatist" president; further they are calling for a boycott of all the products she was advertising.

The Taiwan bloggers have answered in kind; more or less defending their "attractive and popular–because she seems to be a sweet girl–model." The blogs have been firing back and forth but from all I can see they are in Chinese.

It brings back memories of when A-mei a popular singer of Taiwan was banned in China because she sang the national anthem at Chen Shui-bian's first inauguration.
Cursory research shows the reader is right, and apparently the mainland bulletin boards are eating it up as well. It's a superb example of a non-issue whipping people up into a frenzy. What motivates the bulletin board busy-buddies to go bonkers like this? Is there any sense of rationality or critical thinking? Are they just a pile of dried timber waiting for a spark to light them into a frenzy?
Just asking….