Maybe I was wrong. Maybe winning the hearts and minds of the Iraqis won't be that hard to do after all. How could they not love us?
Operations by U.S. and multinational forces and Iraqi police are killing twice as many Iraqis – most of them civilians – as attacks by insurgents, according to statistics compiled by the Iraqi Health Ministry and obtained exclusively by Knight Ridder.

According to the ministry, the interim Iraqi government recorded 3,487 Iraqi deaths in 15 of the country's 18 provinces from April 5 – when the ministry began compiling the data – until Sept. 19. Of those, 328 were women and children. Another 13,720 Iraqis were injured, the ministry said.

While most of the dead are believed to be civilians, the data include an unknown number of police and Iraqi national guardsmen. Many Iraqi deaths, especially of insurgents, are never reported, so the actual number of Iraqis killed in fighting could be significantly higher.
And we're surprised no one's offering us flowers and chocolates.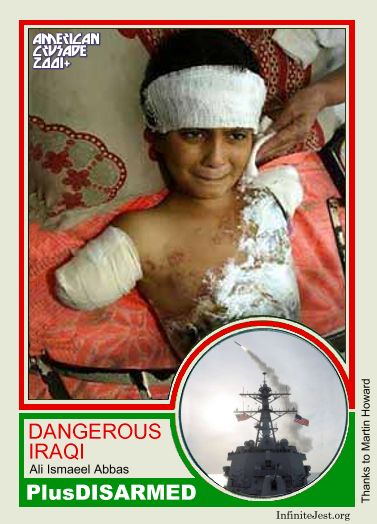 Heart and minds — your tax dollars at work.
Card via Infinite Jest – check it out.