The blog calls this monstrosity "Speed Bumps."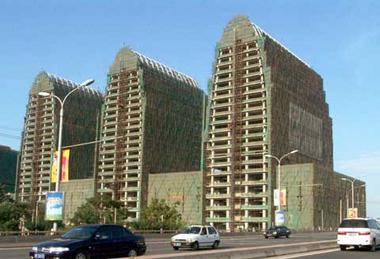 Beijing has a lot going for it, but architectural splendor isn't one of them. With some dramatic exceptions, much of the city is visually drab and uninspired. As any recent vistor to the city knows, it's alive with cranes and construction everywhere, fueled along by a strong economy and the approach of the 2008 Olympics. But how do the new buldings stack up architecturally? Are they making Beijing more beautiful?
There's a very creative blog that takes a look at this question and shows some wonderful examples of Beijing's ugliest new buildings, each with an imaginatively nickname. Be sure to check it out (and also the funny article in The NY Times that pointed me there).
From the blog:
Architectural decisions impact our identities: they have a deep and profound impact on our quality of life, ultimately affecting our emotional and psychological well-being. This is why architecture should not be a whim and should not lack roots.

Welcome to Beijing: a world of random chaos, a fitting and fascinating laboratory for contemporary architecture. In this ancient capital today, home to a glorious built heritage, the most interesting things are being built. Here, in this space, we expose it. We mourn the loss of a great tradition of elegance and craftsmanship. We sometimes come across designs that are thoughtful and exciting. We explore, not deplore, but in our explorations thus far, we often come to conclusions that are uncomfortable and humorous. While our exercise is playful, it ultimately aims to observe this particular place, which produces a contemporary architecture that impulsively pulsates with so much bombast, flamboyance and bravado.
From the Times:
A few pieces of this new architecture stand out for their aggressive awfulness. To pay tribute to those buildings, a group of young Americans in Beijing are launching a Web site, www.chinesetriad.org/bab.

"There's been so much interest in high-design architecture in China lately, but it almost seems like a joke because there's this endless amount of bad stuff going up," said Jeremy Wingfield, who conceived the site with his brother Connor and two friends, Dan Elsea and Dan Shupp.

The Web site will allow residents to post pictures and commentary, will feature those new buildings that have what Mr. Wingfield called "a grandiose quality, a fantastical or monumental kind of aspiration that makes them worth recording."

Among the buildings that fascinate him most, he said, were those that aimed to recreate masterworks of Western architecture. The mimicry, though, never looks quite right; the architects seem twice removed from their sources, like a designer who decides to study Venetian architecture by spending a weekend at the Venetian Hotel in Las Vegas.

"They're like copies of copies," Mr. Wingfield said. "Kitsch derived from kitsch."
Just like when they try to copy Western Web sites and product labels — they look like parodies. It's all part of the peculiarly charming allure of what Simon Winchester refers to as "the delicious strangeness of China."