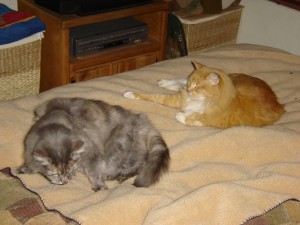 A few hours ago I had my adored cat Nick, who was nearly 23 years old, put to sleep by the vet. A few years ago I posted on the death of his sister cat, Daisy. (Anyone who is a fan of The Great Gatsby knows where the names come from.)
Daisy, the grey cat, was the loving one, so affectionate that people who came into contact with her said she was more a dog than a cat. Nick, on the other hand, was the beautiful one, a brilliant orange color with a white thrush of a throat. He was sublimely arrogant; it was his house and all the food in it was his and I never owned him, he owned me.
Nick had been losing weight for months and I knew he wasn't going to last much longer. Over the past few weeks his legs gave out and he struggled to stand up. When he lost interest in food a few days ago I knew it was time.
I won't get all sentimental. I'll just say that Nick was my life, and I always loved his grandeur, his egotism, his self-centeredness. No, I know these aren't admirable qualities in a person, but in Nick's case they made him regal, as though he was always holding court. It was funny that he behaved like a monarch. He was spoiled as hell, but what beloved pet isn't?
I was massaging the back of his ears as the vet injected him with the anesthesia, which put him down in about 30 seconds. Yes, it was agonizing, but it was a relief to put him out of his pain. He'll be buried in my back yard, right alongside his long-time companion Daisy. May they both rest in peace forever.