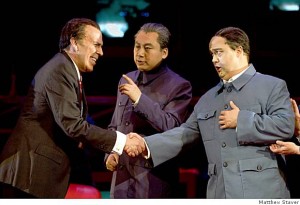 Scene from John Adams' 1987 opera
As friends of mine in Beijing know (to the annoyance of some of them, I'm sure), one of my latest obsessions has been John Adam's incredibly beautiful opera, Nixon in China. It is not new to me; I was channel surfing back in the late 1980s when I came across a performance of the masterpiece on PBS. At the time, I wasn't interested in any composer other than Wagner, but the soaring vocal line and dazzling orchestration made me put down the remote and listen. And watch.
I absolutely loved it. It was a strange thing; who would have thought Nixon's trip to China in 1972 would be material for a full-blown opera? Who would think of either Richard or Pat Nixon as sympathetic characters? Yet it works, capturing musically and dramatically a remarkable cast of characters, not to mention the grandiosity of the occasion, the making of history.
I only re-discovered the opera a few months ago, when I decided to buy it on iTunes. The music is essentially minimalist, but with a healthy infusion of romanticism and lyricism. The score is tonal, the vocal line melodic and immediately memorable (unlike a lot of other minimalist music, which can be more about effect than melody). If China is one of your interests, there's no excuse not to be familiar with Nixon in China.
One aria in particular, "I am the wife of Mao Tse Tung," captured my attention, and it's now the No. 1 most-played number on my iPod. It takes some getting used to the odd vocal leaps and repetitive melody. But if you can stick with it, I think you'll agree that "chilling" is the best way to describe it. You can watch the entire scene here, and the performance is first rate.
And it's not just the music. It's a pretty perfect synthesis of music, singing, drama, and staging. Take a look at the singer playing Pat Nixon, at first puzzled, then fearful, for a moment positively terrified, then compassionate to the victim of Madam Mao's wrath. Look at the clash of cultures as she (Pat) walks around the stage watching the unfolding drama with a look of complete disbelief. Look at the hysteria as Jiang Qing holds up Mao's Little Red Book, her unctuous embrace of the Chinese performer, her haughtiness, her fanatical ideology and the echoing of her words by her automatons, a microcosm of the CR insanity, all unfolding under the serene gaze of a floor-to-ceiling portrait of the Great Helmsman himself.
Tragically, I don't know the exact story of what's going on in this scene and the libretto is under copyright so I can't read the story scene-by-scene. (You can read the words to the aria here, but it doesn't explain the context.) I want to know why Jiang Qing is so incensed, and what's up with the guy with the gun. Still, these questions don't diminish the effect of this clip. Watch it now. Overwhelming. Goose-bump-inducing. Sublime. As I said, it may take some getting used to, especially the cosmic high notes and leaps. But so worth the effort…
There are many other scenes you can find online. This clip of Nixon's arrival in China is also one of my favorites. To see what I mean about the vocal line, listen to Zhou Enlai's response when Nixon says he, Zhou, must be a constant traveler. Listen to how, after Nixon's meaningless banter, the music captures the Chinese modesty reflected in the words, and how the vocal line suddenly soars as Zhou formally welcomes his guest:
No, not I. But as a traveller come home
For good to China, one for whom
All travel is a penance now,
I am most proud to welcome you.
That is vocal writing Mozart would have admired. And the intensity is sustained through every scene. Simply amazing. I used to think opera died at the turn of the century before last. I was wrong. Nixon in China deserves to be remembered as a seminal work, one of the great classical achievements of the 20th century. There's nothing quite like experiencing the work of a genius.