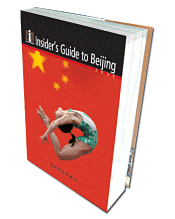 I was sent this book to review months ago and I got so caught up in work I put it aside and all but forgot about it. Then one day last week I needed to find a restaurant fast and I remembered I had a new book on Beijing buried in my bookcase. After a little excavation I dug it out and started thumbing through it. I soon realized this isn't your everyday tourist guidebook, the kind that lists only restaurants that tourist buses flock to or that pushes you toward annoying tourist traps. It's not really a guidebook, but more of a survival manual for living in Beijing. And for uncovering all that Beijing has to offer.
The best think about this book is that it truly lives up to its title: its chapters are written by Beijing's best and brightest like Jeremy Goldkorn and Kaiser Kuo – people who not only know Beijing like the proverbial back of their hand, but who actually tell you stuff that is useful, stuff that you simply won't find in your everyday guidebook or survival manual. Great restaurant reviews, descriptions of the best museums and art galleries and musical events in town, and tips for every conceivable activity, from starting a business to getting a driver's license to finding a language school. And it's told with context and insight, not just laundry lists and one-line descriptions.
I try to avoid superlatives, but this 700-page encyclopedia is the best city guide that I've ever seen. Beijing is so huge and complicated, so hard to navigate, and when you first get here (and even after) so many of the great things going on here are hard to find if you don't have an insider telling you where to go. This book unlocks it all, giving you the keys to the kingdom. It's great. I just wish I'd opened it up earlier.