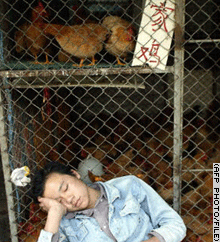 I'm hoping some of you in China were lucky enough last night to see CNN Interational's report on what goes on in the animal markets in Guangzhou. I've been to the markets in Hong Kong where the chickens and other birds are crowded together in cages, and I've seen the same in Beijing. I've been to the restaurants where you point to the live animals in the cages and the staff dutifully kills and cooks them for you. But I've never seen anything like the market they showed in Guangzhou.
They first focused on some sickly, emaciated chickens crammed into a cage. Then the camera panned back to show this was just one of hundreds of cages, all stacked on top of one another, with puddles of blood and shit and God knows what else all over the ground below. A young child squatted in the goo, and young men sat leaning against the cages, smoking cigarettes, looking thoroughly indifferent.
In one cage, sick young dogs with unbelievably sad eyes looked up at the camera. The cage was so small and low, their heads were pressed against their feet. They looked like concentration camp victims, as did the cats in the cage next to them. One bloody dog that seemed to have a chunk of its leg missing was lying on the filthy ground. No one seemed to care or notice.
From the report:
In a bustling market in the southern Chinese province of Guangdong, dogs, cats, chickens, frogs, snakes, turtles and palm civets are stacked on top of each other in crates, wire cages and water buckets ready for sale.

Customers peer at the caged animals before choosing their meal of the day. They watch as the butcher cuts up the animal with knives and machetes, spreading blood, guts, faeces and urine all over the market floor.

People from South China believe that eating wild animals is good for their health and vitality, and gulping down such exotic fare as cobra and Asiatic brush tailed porcupine is seen as a symbol of social status.

Indeed, there is a saying in South China that "anything with four legs, except a chair, and anything that flies, except an aeroplane, can be eaten."

One especially famous dish is the "Dragon-Tiger-Phoenix Soup," a brew made up of snake, cat and chicken.

South China offers the most exotic fare from all over the globe — by some accounts at least 60 species can be found in any one market –thrusting together microorganisms, animals and humans who normally would never meet.

This thriving trade gives the manufacturing hub that straddles the Pearl River Delta the unenviable title of being the "petri dish" of the world.

"Animals arrive at these markets stressed, diseased, dying and dead," Animals Asia, a Hong Kong-based charity dedicated to ending cruelty for animals in the region, says on its Web site.

"These animals have no free access to food and water or shelter from the elements and are mixed indiscriminately."
And we wonder why South China is the world's breeding grounds for infectious disease.
I don't know if the censors allowed this to be seen in China (the screen simply goes blank when the media police don't like CNN stories), but I hope they did. We're not talking about people's personal habits or cultural issues or even cruelty to animals (though that's certainly an issue). We are talking about the fate of millions of people and other animals, since the pathogens that escape from this "petri dish" know no boundaries and could wreak havoc on species around the world.
If people want to buy and sell "exotic" animals, do they have to be warehoused in such sickening, sqalid, disease-breeding conditions?