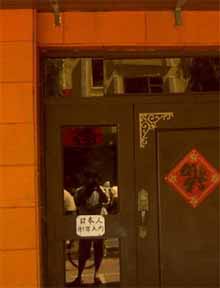 This is from eswn, but I couldn't find a specific link to his post, so let me just reproduce his comments:
In the city of Jilin (China), a western-food restaurant has a Chinese-language sign outside the door: "Japanese must apologize before entering." The restaurant said that if Japanese customers want to dine here, they must properly apologize for the fact that Japan invaded China, or else the restaurant will not offer any services.
It reminds me of attendees at Bush stump speeches being forced to sign pledges of loyalty before being granted admittance. Only this is a bit uglier, as it is completely race-specific. A great way to mend hard feelings between the current generations of China and Japan. And a glowing example of China's ongoing obsession.